Mogilev State University hosts exhibition dedicated to Konstantin Simonov
/ Главная / Russkiy Mir Foundation / News /

Mogilev State University hosts exhibition dedicated to Konstantin Simonov
Mogilev State University hosts exhibition dedicated to Konstantin Simonov

23.06.2016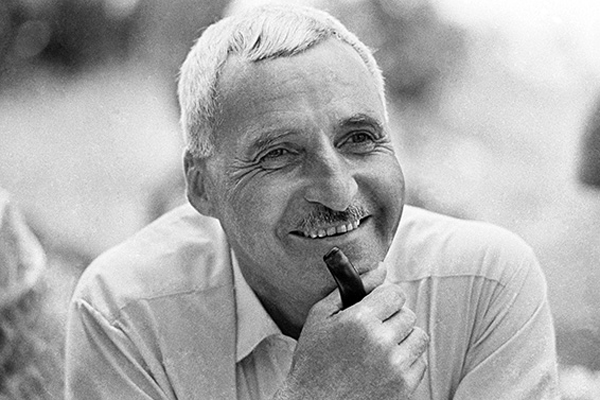 An exhibition entitled The Life of Konstantin Simonov in Pictures from Family Archive that has opened today in Belarus follows a
memorial campaign
dated to the 75th anniversary of the beginning of the Great Patriotic War arranged by civil society organizations and educational institutions of Belarus, Russia and Ukraine.
The photo exhibition presenting photographs from Konstantin Simonov's family archive most of which have never been on display before has been arranged by a Moscow Photo Center with the support of the Russkiy Mir Foundation.
The Executive director of the Russkiy Mir Foundation Vladimir Kochin took part in the opening ceremony.
Over 100 photographs showing Konstantin Simonov and his family members' life are on display. The exhibition includes photos starting from the writer's childhood and ending with farewell ceremony at the Central House of Writers. Most photos are really exclusive. They were never published before. The writer's portraits and scene photos are extremely interesting.
"Photographers loved him. He was elegant, generous, and artistic, had a wealth of byplay and liked to have his photos taken. And photographers took pictures of him literally at every place including his home, editing rooms, during the war, when he was having his vocation, doing sports or smoking as he was a chain smoker, during his meetings with various people, sitting at his desk in his flats as he moved from one flat to another about ten times", Alexey, K.Simonov's son, says.
"He met world famous poets, mime artists, politicians, singers, seamen, fishermen, Uzbek collective farmers, soldiers, cinematographers, marshals, and cosmonauts.
The WW II that became the main event of his life he walked, swam, drove and crawled through all the fronts from the Black Sea front to the Barents Sea front and his comrades-in-arms who were photo correspondents were always by his side. It was them who took a great number of pictures showing Konstantin Simonov during the war and they are not still put together but sometimes become available thanks to unremembered archives.
He had beautiful wives and children having very special appearance. His mother was born Princess Obolensky of a Rurikid family and he inherited her aristocraticism. There is no photograph that might cast an imputation on his character.
Only 110 photos were sorted out of several thousand pictures. They belong to different family archives owned by tens of professional and amateur photographers who managed to preserve the captured moments of Konstantin Simonov's life at different times and in different circumstances. We express our gratitude to all of them for their support with the arrangement of the exhibition. There is a special section at the exhibition dealing with Konstantin Simonov and Yakov Nikolaevich Halip, one of the most famous photographers of the 1940s-1960s. The photos that are on display there show how they supported and respected each other.
We would like the visitors to the exhibition to remember Konstantin Simonov pretty well as there is many years to come till the next century".
The events in which the guests from three Slavonic countries, students and representatives of mass media take part are to be continued at the Buinichskoye Pole today.
News by subject