Russkiy Mir Foundation at a Meeting with Sergey Lavrov and NOGs
/ Главная / Russkiy Mir Foundation / News /

Russkiy Mir Foundation at a Meeting with Sergey Lavrov and NOGs
Russkiy Mir Foundation at a Meeting with Sergey Lavrov and NOGs

30.05.2016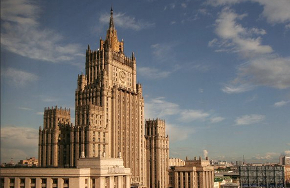 Vladimir Kochin, Executive Director of the Russkiy Mir Foundation, will participate at the annual meeting of Sergey Lavrov, Russia's Foreign Minister, witht the representatives of the NOGs working in the field of public diplomacy.
The meeting will take place on June 1; it is planned to discuss issues of cooperation between the Russian MFA and NGOs of the former Soviet Republics and around the world.
The Russkiy Mir Foundation together with the Russian Peace Foundation, Foundation for Supporting and Protecting Rights of Russian Compatriots Living Abroad, the Alexander Gorchakov Public Diplomacy Fund and dozens of other NOGs working in this field traditional participate in this meeting.
News by subject