The Russian Language in Life and Work
/ Главная / Russkiy Mir Foundation / News /

The Russian Language in Life and Work
The Russian Language in Life and Work

02.04.2015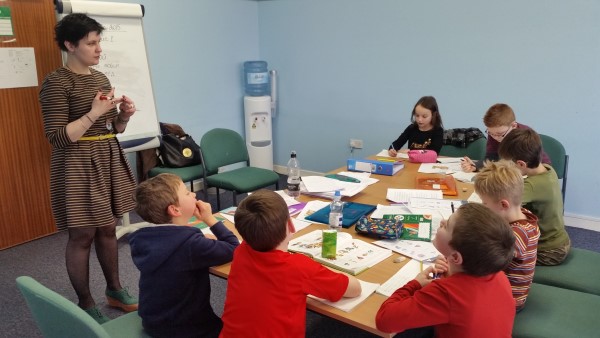 The Russian Center in Scotland Haven (RCS Haven) has celebrated its 10th anniversary. The center recently completed certification on two programs. Graduates of the programs receive certificates of compliance with the requirements of the Scottish Qualification Authority (SQA) for Russian Language for Life and Russian Language for Work.
Victoria Ziervogel is not only the coordinator for the SQA programs but also is the lead teacher for the Russian Higher class. Her students regularly participate in countrywide recitation contests and receive high marks.
The intermediate group, which focuses on reading and writing skills, has started tackling the most difficult task – learning Russian grammar. The young teacher Ekaterina Silich, who began working at the school this academic year, received her training at the University of Glasgow and combines English and Russian methodology for teaching Russian language for children from Russian-speaking families born in Scotland. 
Under the leadership of instructor Elena Sedunova, the group called Bukvaryonok is transitioning from learning the Russian alphabet to reading. The use of literature, purchased with the aid of the Russkiy Mir Foundation, allows the children to more quickly comprehend the world of Russian fairytales thanks to the illustrations. Applying an early learning methodology for bilinguals, the school helps alleviate the problems which arise when a child learns two languages in parallel. 
The preschool class, which combines learning with games, continues its work. Teacher Svetlana Senior, playing with the children, instills in them Russian speaking skills. Game based methods are successful not only for preschool children. Throughout the course of the week children of various ages can visit the studio and study Russian, participating in various role-playing games. The studio is managed by Ekaterina Tikhonova and Elena Bachelor.
Thanks to the support of the Russkiy Mir Foundation, Russian language courses for adults are also continuing. The lessons are held by Tatiana Orlova, who also organizes the Total Dictation event in Glasgow.
The RCS Haven actively cooperates with other Russian schools in Great Britain and also is expanding its network of contacts with Scottish educational institutions which plan to teach Russian to children in Scotland.
Nina Ivashinenko,
RCS Haven
News by subject