Russkiy Mir Flag Raised in Sochi
/ Главная / Russkiy Mir Foundation / News /

Russkiy Mir Flag Raised in Sochi
Russkiy Mir Flag Raised in Sochi

01.11.2014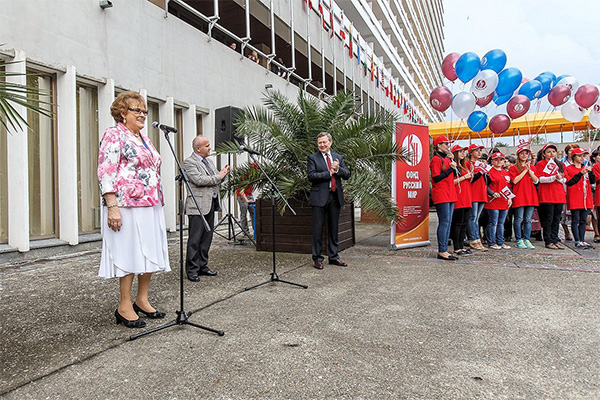 On November 1 the first Russkiy Mir Pedagogical Forum opened in Sochi, the participants of which will take part in the VIII Russkiy Mir Assembly on November 3. Today the delegates of the forum witnessed the ceremonial flag-raising ceremony at the Grand Hotel Zhemchuzhina.
This initiative organized by the Russkiy Mir Foundation, with students of local universities, volunteers, public figures and delegations of both forums taking part. The flag-raising ceremony was a joyous event, with popular Russian songs and melodies broadcast on the square creating a festive atmosphere.
Speakers at the ceremony included Lyudmila Verbitskaya (President of the Russian Academy of Education, Chair of the Russkiy Mir Foundation Board of Trustees and Head of the International Association of Russian Language and Literature Teachers) and Vladimir Kochin (Executive Director of the Russkiy Mir Foundation), who congratulated the guest on the start of the Russkiy Mir Pedagogical Forum and the VIII Russkiy Mir Assembly.
With much fanfare the Russkiy Mir flags were raised and thousands of balloons sailed off into the sky. The Russkiy Mir festivities had begun.
The participants of the VIII Russkiy Mir Assembly have more festivities ahead. Tomorrow, November 2, on the eve of the opening of the assembly a "Russkiy Mir Tree" at Sochi's Riviera Park and on November 3 a wreaths-laying ceremony will be held at the Alexander Pushkin monument.
Russkiy Mir Foundation Information Service
News by subject