Bronze Statues of Stanislavsky and Nemirovich-Danchenko Unveiled in Moscow
/ Главная / Russkiy Mir Foundation / News /

Bronze Statues of Stanislavsky and Nemirovich-Danchenko Unveiled in Moscow
Bronze Statues of Stanislavsky and Nemirovich-Danchenko Unveiled in Moscow

04.09.2014
A monument to the founders of the Moscow Art Theater Konstantin Stanislavsky and Vladimir Nemirovich-Danchenko has been unveiled in Moscow. The composition has been erected at the intersection of Tverskaya Ulitsa and Kamergersky Pereulok, directly in front of the entrance to the Chekhov Moscow Art Theater.
On September 3, the traditional company meeting marking the start of the theater's 117th season took place at the Main Stage. Although the company has already went on tour to Bryansk and Volgograd prior to the season opening, the first performances in Moscow was held Wednesday evening – The Streetcar Named Desire, directed by Roman Feodori. Oleg Tabakov, MXAT Artistic Director, has welcomed the company and shared with them the repertory plans for the upcoming season.
Following the meeting, the theater's workers gathered outside to inaugurate the monument to Stanislavsky and Nemirovich-Danchenko. The monument, created by sculptor and architect Alexei Morozov, is a two-figure composition with stele mounted on a pedestal. At the bottom of the stele is a board with a Latin inscription "Homines, leones, aquilae et perdices, cervi cornigeri …" This is a translation of the beginning of Nina's monologue from The Seagull by Anton Chekhov: "People, lions, eagles and partridges, antlered deer …"
Alexei Morozov worked on the monument in Italy for two years. The statuary group was cast in bronze in the city of Pietrasanta, the world capital of bronze casting. The pedestal was created in Verona using the most modern technologies in the field of multi-axis stone processing.
The inauguration of the monument brought together most prominent artists and politicians, the entire company of the Moscow Art Theater as well as hundreds of theatergoers. Speaking at the ceremony were Moscow Art Artistic Director Oleg Tabakov, sculptor Alexei Morozov, Federation Council Speaker Valentina Matvienko, Deputy Mayor of Moscow Leonid Pechatnikov, as well as descendants of Konstantin Stanislavsky and Vladimir Nemirovich-Danchenko.
Russkiy Mir Foundation Information Service
News by subject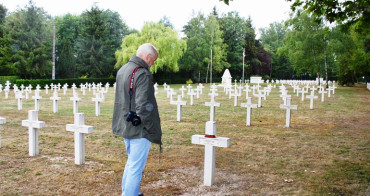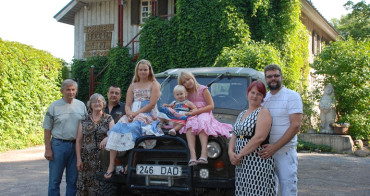 How do you rise to fame and become a popular blogger with 300,000 subscribers when you are a bit over 70? Arno Pavel, an Estonian pensioner, has found his recipe for success. At 72, he drove his UAZ from Tallinn to Vladivostok and back. Impressions from such a trip would have been enough for any person for a lifetime. But Arno did not stop there: over the past three years he has visited Petrozavodsk, Arkhangelsk, Syktyvkar, Orenburg, Astrakhan, Elista, Grozny and even the Kola Peninsula. He also wrote a book about his trips to Russia and plans to write another one.