Viacheslav Nikonov Attends the "Partnership with Russia in Europe" Discussion Forum
/ Главная / Russkiy Mir Foundation / News /

Viacheslav Nikonov Attends the "Partnership with Russia in Europe" Discussion Forum
Viacheslav Nikonov Attends the "Partnership with Russia in Europe" Discussion Forum

13.04.2010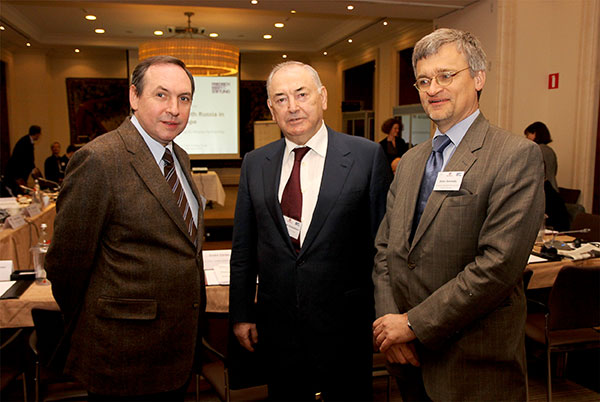 On the April 12-14, a meeting of Russian and European experts is taking place in Brussels. The subject of discussion is the current state and new challenges to the relationships between the European Union and Russia. The conference is being organized by the "Unity in the Name of Russia" Fund, partners of which are the Russkiy Mir Foundation and Friedrich Ebert Funds.
The forum opened in the city hall of Brussels with welcoming speeches from the executive director of the Russkiy Mir Foundation, Viacheslav Nikonov and the secretary of the international department of the chancellery of Brussels, Joan Paul Buff. Also speaking were the manager of the Friedrich Ebert Fund in Brussels – Andre Herber, and the manager of the Friedrich Ebert Fund in the Russian Federation – Reinhardt Krumm.
On the evening of April 12, the permanent representative of Russia in the European Communities, Vladimir Chizhov, addressed the participants with a report "On the Russian Federation's initiative for creating a European Security Treaty". In his speech, Mr. Chizhov indicated that is it too early to define the final version of the future document. "At the present stage the main thing is to hold negotiations aimed at finding the common language and reaching an agreement on the most sensitive issues. This is what is necessary to improve the general atmosphere and strengthen trust in the region," said the Russian representative.
On April 13-14, Russian and European political experts and heads of foreign-policy agencies will be discussing the possible consequences of the Lisbon treaty for the EU and Russia partnership, their common interests, possibilities of finding a settlement in the South Caucasus, Afghanistan, Iraq and Pakistan, as well as other issues important for good bilateral relations.
News by subject