Roundtable Discussion "Information Space of Russkiy Mir"
/ Главная / Russkiy Mir Foundation / News /

Roundtable Discussion "Information Space of Russkiy Mir"
Roundtable Discussion "Information Space of Russkiy Mir"

05.11.2008
A roundtable discussion entitled "The Information Space of Russkiy Mir" was organized on November 3 as part of the Second Russkiy Mir Assembly. The speakers included: Vitaly Tretiakov, editor of Politichesky Class magazine; Armen Oganesyan, chairman of the Voice of Russia radio station; Liudmila Kol, chief editor of LiteraruS - Literature Word (Finland); Paul Richardson, president of Russian Information Services (USA); and Georgi Bovt, editor-in-chief of Russkiy Mir magazine. The briefing was hosted by Yury Tavrovsky, editor-in-chief of Diplomat magazine.
"In addition to demonstrating its intellectual potential, Russia must influence Western politics." This idea ran through the whole meeting. The discussion participants discussed the most vital issues for two hours.
The presence of Russkiy Mir in the Russian information space was the first issue to be discussed. Some time ago a new term "single information space" was introduced, which aims at providing people from all over Russia with a feeling of belonging to the same world, the Russian World. It is also crucial to secure access to the global information space for Russian media, since it should be available to all Russian-speaking people who live abroad.
One of the most important comments was given by the president of the Russkiy Mir Foundation Vyacheslav Nikonov on a certain Russian media channel. He said that "the quality of information can be enhanced through improvement of the system of informational education. We should train future professionals to create, evaluate and consume information. The optimal solution is to launch large mass media, which would be influential and financially solvent and would not put their reputation at risk in a race for new facts."
The same idea was communicated by Edward Lozansky, political analyst and president of the "Russia-USA" Foundation and American University in Moscow: "If Russkiy Mir activities are aimed at promotion of the Russian language and culture, I am positive about this initiative and wish you great success. As for politics, it is impossible to influence it in any way. Our current priority is to promote Russian literature by translating it into English and to aim at the elite. We must also launch websites about Russia in English, to offer columns in the Russian press for comments of American statesmen. We should also provide international training to future mass media specialists to enable them to report news about Russia in perfect English. RIA Novosti is already doing this, but three-five specialists are obviously not enough. Such employees must reflect the intellectual potential on Russia. It is necessary to boost the professionalism of PR-people who communicate information to a Western audience. Currently there is an apparent lack of local PR specialists. Only several universities train PR professionals, but none of them offer PR-training in English or other languages. Consequently, it is vital to fill this gap."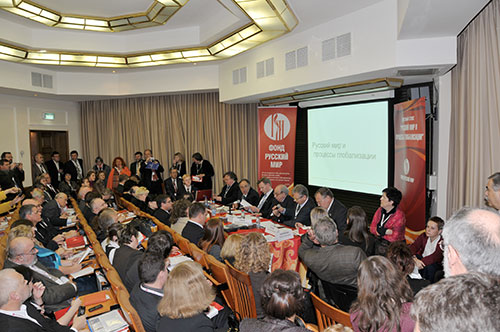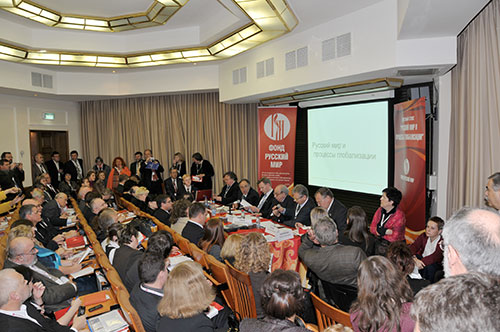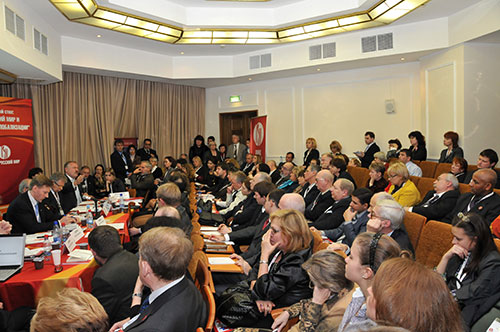 The discussion participants also touched upon the status of the Russian-language media abroad, which is currently consolidating together with the whole Russian world. Currently over 300 mln. people in over 80 countries read Russian newspapers. Russkiy Mir intends to have a deep insight into the problems of the Russian-language media, to support vital social projects, and to prevent Russian titles from being squeezed out of certain countries (since such facts do take place). Russkiy Mir will also unite and develop new types of media, primarily online, since they enable to secure freedom to the mass media.
A similar idea was communicated by Sergei Panteleev, director of the Institute of Russia Abroad: "The very notion of Russkiy Mir (the Russian World) generates many cultural and historical associations. The Internet is a vital tool enabling to structure Russkiy Mir, since it brings together people from different parts of the world. As often happens, public institutions were the first to respond to the problem and launched several websites on the subject, and RUSSKIE.ORG launched by Institute of Russia Abroad is among them. Russian-language media of Western countries show quite a cautious attitude towards Russia. In the ex-USSR countries there is a strong shortage of successful and regularly updated online projects, largely because of the lack of financing. Our web project RUSSKIE.ORG is intended to develop into a strong online info source and we should unite our efforts, since consolidation of the Russian world, including though online sources should be the priority of the Russian government and civil society residing both in Russia and abroad."
Paul Richardson, president of RIS pointed out the importance of cooperation between Russian and Western Russian-language sources, like RIS. He also said that the magazine published by his organization is the only reliable English info source about Russia, since the bulk of Western media is biased against Russia. Paul Richardson also said that substantially less people are currently studying Russian. And it is a declining trend: 150 educational institutions offering Russian courses were closed because of the lack of Russian-language teachers. Only 25,000 students are currently learning Russian, in contrast to 44,000 of the previous years. The Russkiy Mir foundation initiated delivery of Russkaya Zhizhn (Russian Life) magazine to 200 schools. Deliveries will start soon.
The Komsomolskaya Pravda newspaper gave a presentation of its projects aimed at a foreign audience: digests, collection projects comprising literary endeavors of Russian and foreign authors, the newspaper Sootechestvenniki (fellow countrymen) published jointly with the Ministry of Foreign Affairs. Currently the newspaper circulation across 44 countries hits 300,000 copies and it is planning to boost this further. Readership of the online version of Komsomolskaya Pravda equals to 400,000. The newspaper also offered partnership to everyone interested in writing for the foreign news section.
In conclusion, Yuri Tavrovsky, chairman of the discussion, made the following comment: "Our main task now is to unite separated groups. Unfortunately, it was pointless to hope for state support after the USSR's collapse. The past eight years have made Russia stronger but it is not only Russia's image we are to address. Several months ago the Agency for CIS Affairs was created, and ideally an information source under the Ministry of Foreign Affairs should be created along with the Agency on International Outlook. In this case, we will have a strong analytical and ideological basis and Russian politics will also rise to this level."
News by subject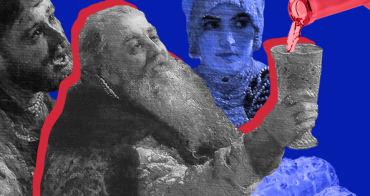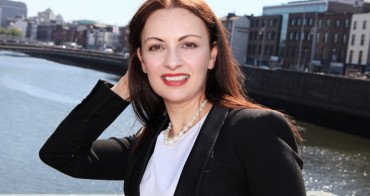 Our compatriot community includes a lot of dynamic female members that have managed to realize their potential in another countries and provide assistance to those who have faced difficulties. Elizaveta Donnery, a solicitor from Ireland, Natalia Zhukova, a family psychologist from Finland, and Anastasia Tikhonova, a member of the Russian Women Association in Malaysia and a volunteer helping women who face domestic violence, tell us about their activities.