Private museum of Alexander Suvorov in Switzerland turned 40
/ Главная / Russkiy Mir Foundation / News /

Private museum of Alexander Suvorov in Switzerland turned 40
Private museum of Alexander Suvorov in Switzerland turned 40

01.03.2019
Photo: ru.axar.az
The museum, which tells about the great Russian commander Alexander Suvorov, celebrates its anniversary this year, Pobeda.rf website reports. It has been working in Linthal, located in the Swiss canton of Glarus, for 40 years. 
The museum, which is dedicated to the transfer of Suvorov's troops across the Alps, became the creation of local historian Walter Geller. Many years ago he created a small exhibition on his own savings. Its exhibits were bullets, cores, bayonets and other artifacts. Geller spotted them, using a metal detector, in battle sites. 
The museum started with a small room of a half dozen square meters. Recently, the exhibition space expanded several times. Now the exposition is 1200 meters. It is located in  Linth Park, in the building of former factory. 
The International Association of Veterans of the Alpha Anti-Terror Group helps the museum with money. According to its Deputy Director Vasily Vereshchak, the museum remains the only private collection in the world where so many authentic artifacts of Suvorov's march are stored. Among them, there is a small Orthodox icon-folding, which was carried by one of Russian soldiers. 
Gradually, the exposition has been replenished. Now you can see old maps, documents and memoirs there. In addition, the museum features prints and paintings depicting battle scenes. There are posters of the times of Great Patriotic War, where Suvorov is a symbol of victory over the enemy. One of the exhibits was the uniform of Suvorov schools of modern Russia. 
As Russkiy Mir reported, the entrance to the museum remains free. Its creator is convinced that both locals and tourists should be able to get acquainted with the important page in the history of homeland. This year marks the 220th anniversary of Suvorov's transition through Alps. 
Russkiy Mir
News by subject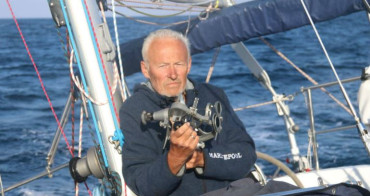 Igor Zaretsky, the legend of Russian and world yachting has celebrated birthdays and anniversaries in the open ocean time and again. The yachtsman from Yaroslavl admits that he may celebrate his 70th birthday in the Golden Globe Race, a single-handed round-the-world regatta. A year and a half ago, Zaretsky became the only Russian participant of the famous race, which was followed by the whole world. The tricolor has been flying over the yacht of the native of Yaroslavl in all oceans, except the Arctic one.