Russian masters created more than 20 Orthodox icons for temples of Syria
/ Главная / Russkiy Mir Foundation / News /

Russian masters created more than 20 Orthodox icons for temples of Syria
Russian masters created more than 20 Orthodox icons for temples of Syria

29.03.2019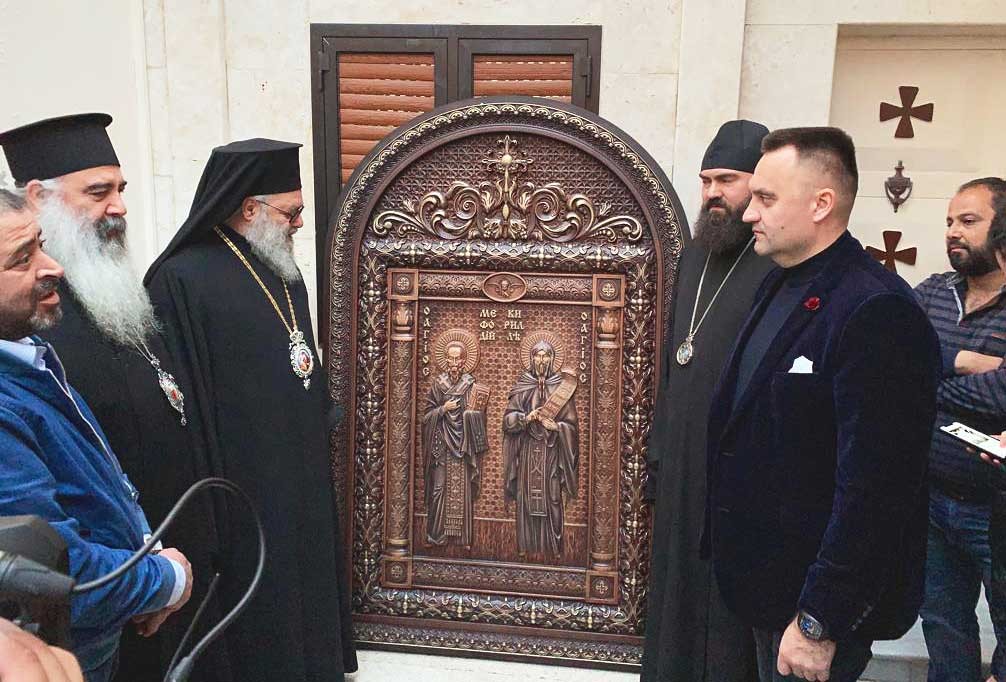 Photo: stapravda.ru
Russian delegation brought more than 20 Orthodox icons to Syria, Stavropol Pravda newspaper writes. They were made by experts of Zakharchenko Orthodox Workshop. Sergey Zakharchenko explained that it took several months of round-the-clock work to manufacture them. About 40 people worked on the icons.
The humanitarian mission was organized with the participation of the Presidential Envoy of North Caucasus Federal District Alexander Matovnikov. The delegation included clergy, government officials, businessmen and philanthropists who help restore Christian shrines in Syria, which were destroyed by terrorists.
Antiochian Patriarchate in Damascus received a hand-carved icon of Sergius of Radonezh. The convent of Saint Thekla got an icon of Saint Blessed Xenia of Petersburg. The two-meter icon of Archangel Michael became a gift for the Church of Saints Sergius and Bacchus, which suffered greatly from the actions of terrorists.
As Russkiy Mir reported, ancient Syrian icon, which was destroyed by extremists, is being restored in Russia. Icon painters from Kursk work on the image of holy martyrs Sergius and Bacchus. The icon was located in one of the most ancient Orthodox monasteries in the city of Maaloula for more than 800 years. The city, where many Christian shrines are located, was occupied by Islamists in 2013. They purposefully destroyed monasteries and temples, including the temple of Sergius and Bacchus, the Roman soldiers and secret Christians who were martyred during times of persecution. The icon, created in the 13th century, was irretrievably lost.
Russkiy Mir
News by subject