Moscow to celebrate International Day of Russian Romance
/ Главная / Russkiy Mir Foundation / News /

Moscow to celebrate International Day of Russian Romance
Moscow to celebrate International Day of Russian Romance

26.01.2018
International Day of Russian Romance will be marked on January 27, 2018. A gala-concert of finalists of the International contest Romanciada will be held in the State Kremlin Palace. A round-table and a press conference with participation of representatives of Charity Foundation Romanciada, Russkiy Mir Foundation and Romanciada organizers and winners of different periods took place the day before, on January 25 in Moscow.
Russkiy Mir Foundation has been supporting International contests of Russian Romance, advancing national culture abroad.
The round table organized by the foundation was held in A.S. Pushkin State Museum. A great number of romances are written on verses by A. S. Pushkin, the executive director of the Russkiy Mir Foundation Vladimir Kochin has reminded, so the venue was chosen deliberately. Romance is a genre joining all people interested in Russia, he noted. There is not any other genre, which would reveal a greater interest to the Russian language than the romance. Romanciada is a social movement based on love to Russian language and culture. Of course, we are glad to see such a consolidated group of people gathered around Galina Sergeyevna Preobrazhenskaya.
"Russkiy Mir Foundation does a giant work and we get great feedback. The Russkiy Mir Foundation is an organization to make friends with and to rub shoulders with, -  Galina Preobrazhnskaya said, in her turn. She is sure that Russian Romance plays an essential role today being the only genre preserving the purity of the Russian language. All the rest, in her opinion, one way or another, allow degradation of speech norms, which would become an instant death for the romance."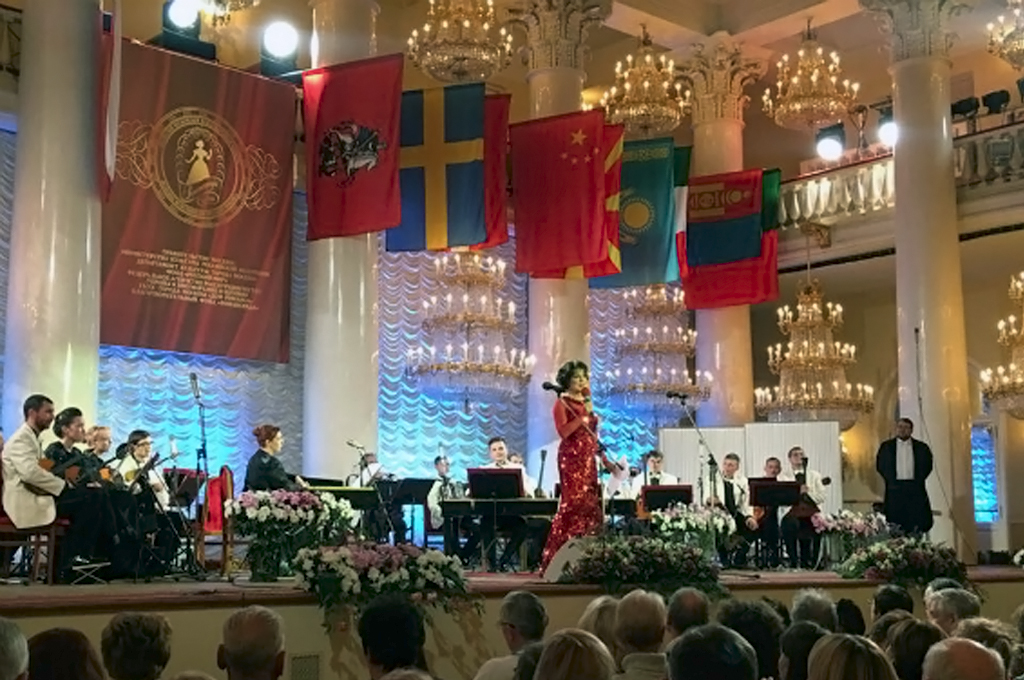 Organizers of Romanciada from Russian regions and abroad have shared the way the contest is organized in their cities and countries. The participants have mentioned that the youth is attracted by Russian romance and foreigners, who were not interested in the Russian culture before, are willingly attached to this complicated kind of art.
The honored artist of the Russian Federation Vice Rector of St. Petersburg State Conservatory Maria Lyudko, the chief of L. G. Zykina State Academic Russian Folk Ensemble Russia named after Dmitry Dmitrienko, the artistic director of the Bolshoi Theatre named after Navoi in Tashkent Avazhon Radzhabov and others were among participants of the meeting.
Romanciada began in 1997 as an International Contest of young performers of the Russian Romance. Romanciada today is a chain of regional contests held in different cities of Russia and the world competing with finals and a gala concert of winners in Moscow.
Russkiy Mir 
News by subject