Meetings with Russian Culture on big screen in Verona
/ Главная / Russkiy Mir Foundation / News /

Meetings with Russian Culture on big screen in Verona
Meetings with Russian Culture on big screen in Verona

05.02.2019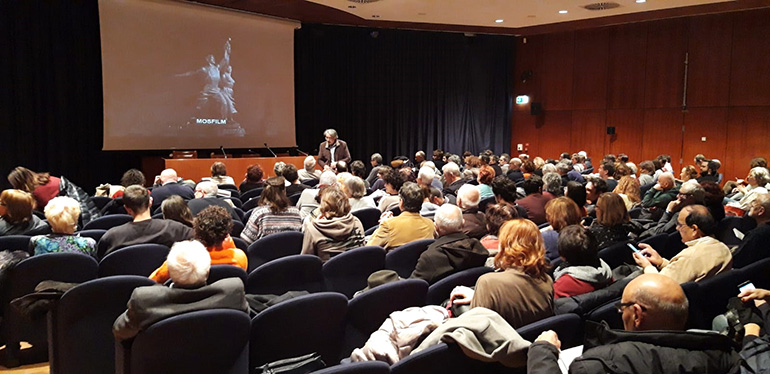 The 10th Meetings with Russian Culture: Cinema film festival started in Verona. This year it is dedicated to the work of director Andrei Konchalovsky. Meetings are held at Palazzo della Gran Guardia every Monday at 20:30 until March 18. Admission is free.
The festival was organized by the Honorary Consulate of Russia in Verona, Discover Eurasia Association and Russian Center with the support of Russkiy Mir Foundation and the State Film Fund under the patronage of the municipality of Verona.
The audience watched the Uncle Vanya movie on February 4. It was filmed in 1970. The movie is a screen version of the dramatic play by Anton Chekhov, in which director Andrei Konchalovsky concentrates on Russian classics. The film recreates the pre-revolutionary atmosphere and tells the story of Uncle Vanya, a landowner who sacrifices himself and his life aspirations in favor of family values.
Events calendar: 
February 11, 2019, 20:30
The Inner Circle, 1991
Director A. Konchalovsky
February 18, 2019, 20:30
Paradise, 2016
Director A. Konchalovsky
February 25, 2019, 20:30
The Story of Asya Klyachina, 1967
Director A. Konchalovsky
March 4, 2019, 20:30
Assia and the Hen with the Golden Eggs, 1994
Director A. Konchalovsky
March 11, 2019, 20:30
The Postman's White Nights, 2014
Director A. Konchalovsky
March 18, 2019, 20:30
House of Fools, 2002
Director A. Konchalovsky
Polina Chunina, Verona
News by subject