Russia starts construction of world's 1st nuclear power unit of new generation
/ Главная / Russkiy Mir Foundation / News /

Russia starts construction of world's 1st nuclear power unit of new generation
Russia starts construction of world's 1st nuclear power unit of new generation

08.06.2021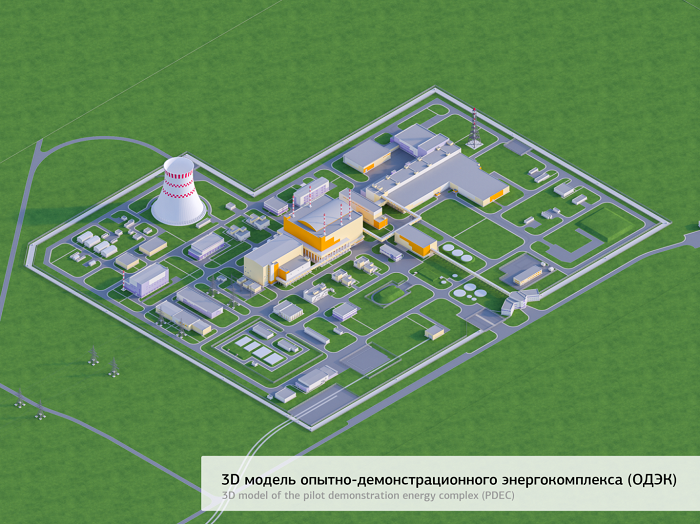 Photo credit: 3D model of the experimental demonstration energy complex  / rosatom.ru
Rosatom has started construction of the world's first new generation power unit BREST-OD-300, RIA Novosti reports. The construction began in Seversk at the site of the Siberian Chemical Combine (SCC). 
It is planned that the BREST reactor will reach operating capacity in the second half of the 2020s.
The abbreviation BREST can be deciphered in different ways. On the one hand, this is the name of a lead-cooled fast neutron reactor. On the other hand, it denotes the concept of a "fast" reactor, which is safe. At the same time, accidents such as those that occurred in Chernobyl and Fukushima would be impossible in principle, experts say.
BREST is the first concept that meets all the safety and economic requirements of the nuclear power industry and is aimed at solving the problems of sustainable development.
BREST is supplemented by a complex for the production of so-called mixed uranium-plutonium nitride nuclear fuel for a reactor and a system for the reprocessing of spent fuel. The result is a closed on-site nuclear fuel cycle, which will make it possible not only to generate electricity at one site, but also to prepare new fuel from the fuel discharge. 
Russkiy Mir
Russian specialists managed to show that it is possible to design fast nuclear reactors in such a way that their safety will be based on the laws of nature, and not on the creation of additional engineering barriers and an increase in personnel. This is the principle of natural safety, which formed the basis of the BREST concept.
News by subject