COVID-19 discussed at Russian center of Granada
/ Главная / Russkiy Mir Foundation / News /

COVID-19 discussed at Russian center of Granada
COVID-19 discussed at Russian center of Granada

23.12.2020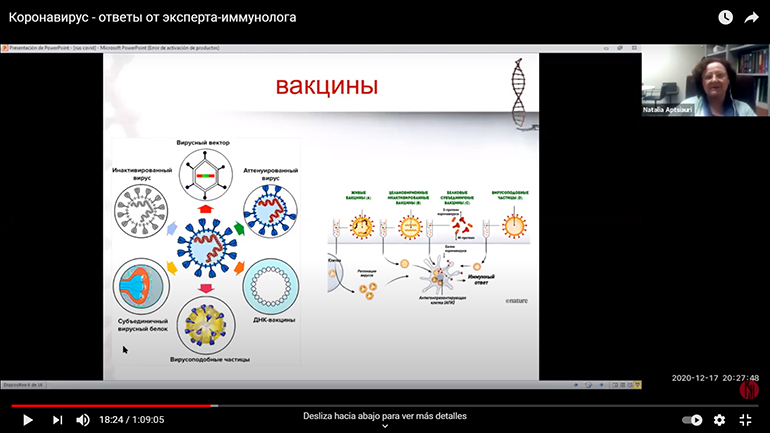 The coronavirus is a disease that has shaded all other events in 2020. By the end of this year, we have hope: scientists around the world have created vaccines, and some of them have already appeared or will soon appear in our hospitals and clinics. But many people are tormented by the question: how reliable are these vaccines? Should I get vaccinated?
Immunologist Nata Aptsiauri answered these and other questions in the online living room of the Russian Center in Granada. Aptsiauri, who was born in Tbilisi, graduated from the Pirogov Russian National Research Medical University in Moscow, defended her thesis in immunology, worked for 10 years at various US universities, and has been living and working in Spain for 20 years. Her area of ​​specialization is oncoimmunology.
At the meeting at the Russian Center, Nata Aptsiauri spoke in detail about what the COVID-19 virus is, what distinguishes it and makes it related to other viruses with which we have long been familiar, why vaccines appeared so quickly, how they work and what to expect from them.
The main conclusion of the doctor is that it is important and necessary to get vaccinated. If vaccination does not reach 70% of the population, the disease will not go away, and outbreaks of infections will periodically repeat. However, the expert recalls, it is advisable to consult with your doctor before taking the vaccine, especially if we have ailments that cause complications with covid disease.
Nina Kresova, Granada
News by subject