Korean students meet with Father Frost in Pyongyang
/ Главная / Russkiy Mir Foundation / News /

Korean students meet with Father Frost in Pyongyang
Korean students meet with Father Frost in Pyongyang

26.12.2019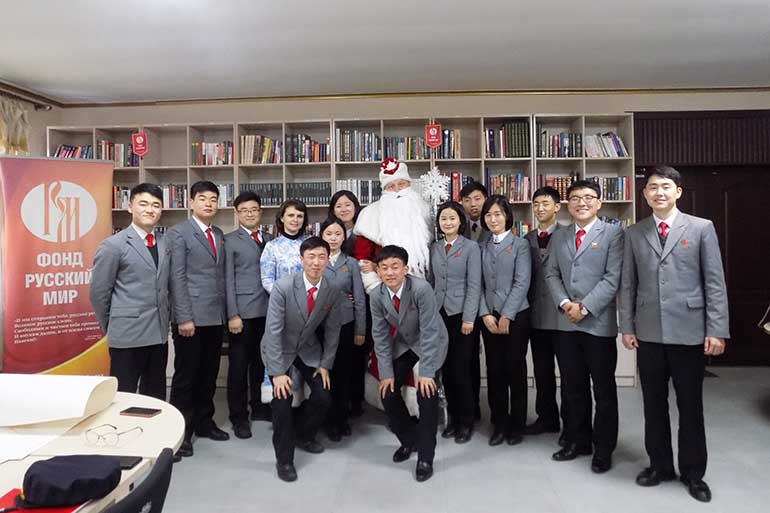 On December 26, 2019, a meeting of Korean students with Father Frost and Snegurochka was held at the Russian Center at the Pyongyang University of Foreign Languages.
At the beginning of the event, Korean students got acquainted with the history of the celebration of the New Year and Christmas in Russia. Snegurochka told about the New Year and Christmas traditions of the Russian people: to have a family gathering, decorate the house, give away presents, decorate the Christmas tree, watch New Year's movies and cartoons, listen and sing New Year's songs. The students also learned about the difference between the old and the new time, about the equally beloved holiday of the Old New Year, about the difference between Orthodox and Catholic Christmas, and that the employees of the Russian Embassy in the DPRK and their families annually celebrate Christmas at a festive church service in Orthodox Church of the Life-Giving Trinity in Pyongyang.
Students took part in several competitions: composed poems, guessed riddles, led round dances, sang songs and painted New Year's attributes.
The Snow Lace workshop raised a great interest. All those present made a variety of decorations from colored paper with their own hands: snowflakes, lanterns, garlands, which adorned the audience later.
Natalya Prokopenko, Pyongyang
News by subject