Cooperation between China and countries of EEU discussed in Beijing
/ Главная / Russkiy Mir Foundation / News /

Cooperation between China and countries of EEU discussed in Beijing
Cooperation between China and countries of EEU discussed in Beijing

05.06.2019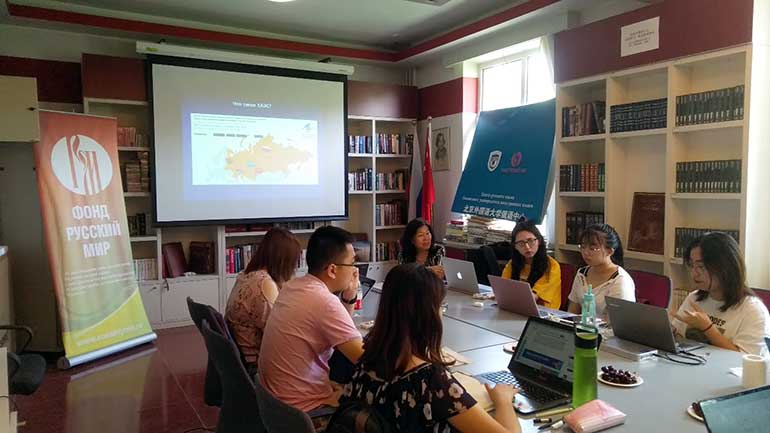 The Russian Center of Beijing Foreign Studies University ​​hosted the round table to discuss the prospects for uniting the Eurasian Economic Union (EEU) with the Chinese concept of One Belt, One Road. The event was organized by the head of the Russian Center, professor Dai Guiju. It was attended by third-year students of the Institute of Russian Language.
Before the start of the round table, Dai Guiju showed students a video about a significant event in cooperation between Russia and China - the completion of the docking of the Russian-Chinese transboundary Blagoveshchensk-Heihe bridge between the Amur region and the Chinese province of Heilongjiang. The two countries implemented large-scale project in the EEU-One Belt, One Road framework, such as the creation of a joint venture for the production of long-range aircrafts, the construction of the Power of Siberia gas transmission line and the development of joint cooperation at Tianwan nuclear power plant in China.
Students began to discuss the history of the formation of the EEU and the concept of One Belt, One Way. They described their current status, listed the progress achieved and analyzed the upcoming difficulties in further cooperation.
Young specialists in the Russian language came to the conclusion that in the face of worsening relations between Russia and the United States, as well as the aggravation of the trade conflict between China and the United States, deepening the strategic interaction between Russia and China was extremely important for maintaining stability, prosperity and peace. Despite the emerging disagreements between Russia and China in regional cooperation, students were convinced that cooperation between China and the EEU countries within the framework of the One Belt, One Road concept had great potential. Russia and China as leading countries in the Eurasian space have common interests that converge in an effort to ensure stability and security in the region on the basis of equality and mutually beneficial cooperation.
Van Tzia, Beijing 
News by subject