Russkiy Mir Foundation presents Russian Defense Ministry's project People's Memory
/ Главная / Russkiy Mir Foundation / News /

Russkiy Mir Foundation presents Russian Defense Ministry's project People's Memory
Russkiy Mir Foundation presents Russian Defense Ministry's project People's Memory

20.06.2018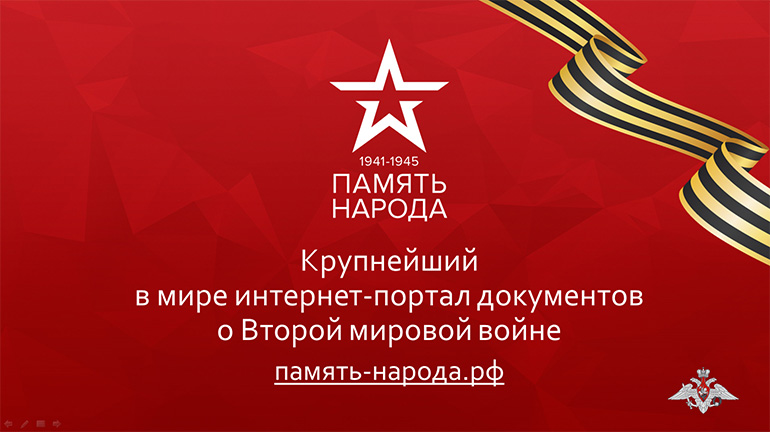 People's Memory project
 is an interactive platform enabling users to get full information on military units, operations and, which is more important, on participants of the Second World War – their deeds, rewards, battle routes and burial sites.
"The objective of the project is to restore forgotten fates and names by provision of free access to all documents of the Defense Ministry," Major-General Valery Kudinskiy said at the presentation of the project.
This objective is fulfilled at People's Memory portal by means of new interactive tools and development of cumulative data banks Memorial and People's Deed in Great Patriotic War 1941 – 1945. At present, this is the largest database about the World War 2 in the world published online.
To understand the scale of the project, it is enough to mention that at present more than 92 % of all the documents about participants of the World War 2 stored in the Russian Defense Ministry were digitalized. Information on more than 5 million military burial sites and more than 18 million records from the rewarding documents with description of the military deeds are available.
Moreover, 425 000 archived documents of the front lines, armies and other units of the Red Army have been published online. These are original documents about the course of the war, orders, reports of the commanders, strategic descriptions of the combat environment. Besides, more than 100 000 military maps were scanned and systemized. Later these maps were used to input locations of all the military divisions to the database.
Scrutinizing these documents and geolocations of all the data about places of birth, drafts to the army, deaths and about last places of military duty of soldiers and officers enable to restore heroic routes of the war participants from being drafted into the army until their returning home.
Joining all the data into a single project provided people with an opportunity to search for the documents, set up personal archives, and investigate circumstances and tragic moments of the battles regardless of their locations. The published documents give rise to the social movement called the Immortal Regiment.
People's Family portal may be used as an efficient tool protecting against rewriting the history, however its primary purpose is to keep memory about own history and continuity of generations.
Russkiy Mir
News by subject