All-Spanish Olympiad in Russian language and culture has started
/ Главная / Russkiy Mir Foundation / News /

All-Spanish Olympiad in Russian language and culture has started
All-Spanish Olympiad in Russian language and culture has started

13.10.2021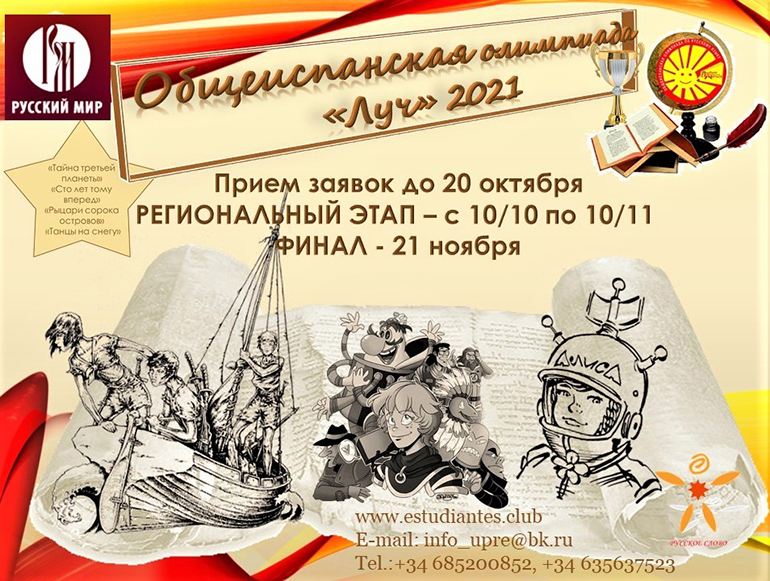 The LUCH Olympiad in the Russian language, literature, geography, history and culture of Russia has started in Spain.
More than 500 students are going to take part in the regional qualifying stage. In addition, Spanish-speaking children who learn Russian as a foreign language traditionally take part in the Olympiad.
There are six difficulty levels for the participants of the Olympiad for different age categories from 5 to 18 years old. The good knowledge of the Russian language, as well as its history, literature, geography and culture is needed to complete the test. 40 winners of the regional stage will take part in the final of the Olympiad, which will be held on November 21 online.
The organizer of the LUCH Olympiad is the Russian Word Union of Spanish Teachers with the support of the Russkiy Mir Foundation and the representative office of Rossotrudnichestvo in Spain, the Coordinating Council of Russian Compatriots of Spain and other associations of compatriots.
Russkiy Mir
This year the Olympiad is dedicated to the 60th anniversary of Yu. A. Gagarin's space flight.
Galina Shcherbakova
News by subject