Victory lesson for high school students held in Bratislava
/ Главная / Russkiy Mir Foundation / News /

Victory lesson for high school students held in Bratislava
Victory lesson for high school students held in Bratislava

11.05.2021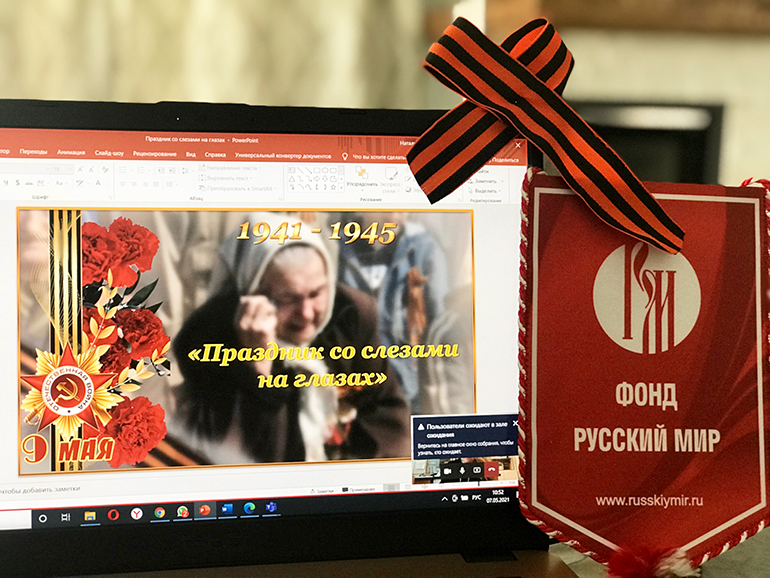 An open lesson dedicated to the 76th anniversary of the Victory in the Great Patriotic War of 1941-1945 was held for May 7, 2021 for students of the Ivan Horvat gymnasium (Bratislava). The event was attended by students and teachers of the gymnasium, as well as guests from Russia and Austria.
The lesson was conducted by the teachers of the Russian Center of the European Foundation for Slavic Writing and Culture together with the teachers of the Russian language of the Slovak gymnasiums Ekaterina Borisova and Tatyana Kraichovicova.
Students began acquaintance with the historical role of the Soviet people in defending the Fatherland and liberating Europe from fascism by studying military vocabulary.
Then they got acquainted with one of the symbols of this holiday - the St. George ribbon: they learned about the meaning of its colors, why for Russians "May 9" is a "holiday with tears in their eyes" and what the monuments to the Unknown Soldier mean, which can be seen in many cities and villages of Russia.
Using paintings by famous artists who captured the most important milestones in the history of the Great Patriotic War in their various subjects, the gymnasium students learned about the courage of people who survived those terrible days, about the courage of those who defended the city, about those who supported the morale of residents and defenders, who fought and won.
The lessons of Victory, annually conducted by the Russian Center of the European Foundation for Slavic Writing and Culture, have become a good tradition for various institutions and cities in Slovakia.
Natalia Chumak, Bratislava
News by subject