Shostakovich's Leningrad symphony sounded in Bulgaria on Russian State Flag Day
/ Главная / Russkiy Mir Foundation / News /

Shostakovich's Leningrad symphony sounded in Bulgaria on Russian State Flag Day
Shostakovich's Leningrad symphony sounded in Bulgaria on Russian State Flag Day

24.08.2020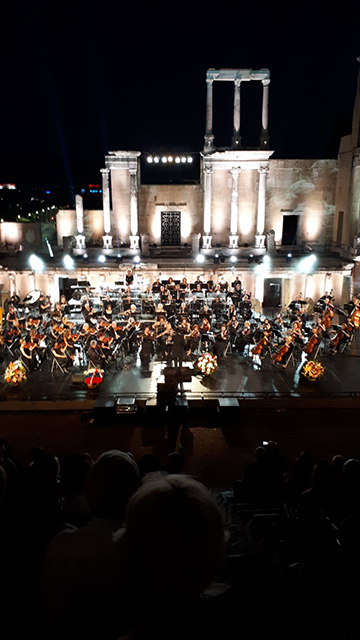 Dmitri Shostakovich's Symphony No. 7 in C major, Op. 60, titled Leningrad, dedicated to the feat of the defenders of the city during the Great Patriotic War, was performed on the stage of the ancient theater in Plovdiv, Bulgaria, on the Day of the State Flag of Russia. The concert was attended by students, teachers and staff of the Russian Center of Plovdiv University.
The Russian Ambassador to Bulgaria, Anatoly Makarov, noted the special solemnity of Shostakovich's music, asserting "the triumph of reason over obscurantism, justice over barbarism."
Photographs of besieged Leningrad were shown during the performance of the musical work.
The Music of the World international project, initiated by the Open Sea Foundation, is part of the program to commemorate the 75th anniversary of the Victory over Fascism.
The conductor of the Plovdiv Opera Orchestra, Dian Ivanov, stressed that it was a great honor for him and the musicians to participate in this project, and called Shostakovich's symphony "musical Olympus".
Nadia Cherneva, Plovdiv
News by subject