Russian guitarist wins prestigious US Acoustic Music Award
/ Главная / Russkiy Mir Foundation / News /

Russian guitarist wins prestigious US Acoustic Music Award
Russian guitarist wins prestigious US Acoustic Music Award

14.02.2020
! 
Photo credit: amazonaws.com
Russian guitarist Roman Miroshnichenko has won the International Acoustic Music Awards, TASS reports. This year, the prize is awarded in the United States for the sixteenth time. The musician is recognized as the best in the Instrumental Music nomination. 
According to the laureate himself, he used to be a fan of old Soviet cartoons, the music of which was written by Vladimir Martynov, a minimalist composer. The musician decided to remaster Martynov's works and record an album. The author approved the idea. The composition from Pavel Lungin's  feature Island, completely revised by Miroshnichenko, received an award. The laureate himself recorded the parts of acoustic guitar, percussion and bass.
Miroshnichenko took part in the competition more than once, but it is the first time that he received the main prize.
The work of the guitarist has been repeatedly noted by the American expert community. In particular, the musician became the laureate of the Independent Music Awards four times. He is currently a member of the jury of this prestigious competition. The Russian also acts as an official of a number of foreign companies, which manufactures guitars.
Russkiy Mir
News by subject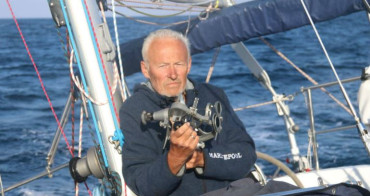 Igor Zaretsky, the legend of Russian and world yachting has celebrated birthdays and anniversaries in the open ocean time and again. The yachtsman from Yaroslavl admits that he may celebrate his 70th birthday in the Golden Globe Race, a single-handed round-the-world regatta. A year and a half ago, Zaretsky became the only Russian participant of the famous race, which was followed by the whole world. The tricolor has been flying over the yacht of the native of Yaroslavl in all oceans, except the Arctic one.