Barcelona Prize awarded for best translation of Eugene Onegin into Catalan
/ Главная / Russkiy Mir Foundation / News /

Barcelona Prize awarded for best translation of Eugene Onegin into Catalan
Barcelona Prize awarded for best translation of Eugene Onegin into Catalan

14.02.2020
Photo credit: godliteratury.ru
The Barcelona Award for the best translation into Catalan went to Arnau Barios, according to the site of the Year of Literature. The prize was awarded for his translation of Pushkin's Eugene Onegin. The translator lives in St. Petersburg, works in the state university and teaches students Catalan language and literature.
Barios graduated from the University of Barcelona, studied the Russian language, and improved his qualifications at Lomonosov Moscow State University. He is fluent in Russian, and speaks English, Polish, Italian.
The organizers of the award called the translation of the Pushkin novel brilliant. According to them, Barios included in Catalan literature the work of world classics, so far from it culturally and linguistically.
The jury also praised that Barios was able to maintain the rhythm and pace of the Pushkin text. At the same time, the translator brought the text closer to the modern reader.
Russkiy Mir
News by subject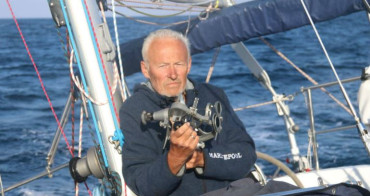 Igor Zaretsky, the legend of Russian and world yachting has celebrated birthdays and anniversaries in the open ocean time and again. The yachtsman from Yaroslavl admits that he may celebrate his 70th birthday in the Golden Globe Race, a single-handed round-the-world regatta. A year and a half ago, Zaretsky became the only Russian participant of the famous race, which was followed by the whole world. The tricolor has been flying over the yacht of the native of Yaroslavl in all oceans, except the Arctic one.