Book Giving Day celebrated in Russia and worldwide
/ Главная / Russkiy Mir Foundation / News /

Book Giving Day celebrated in Russia and worldwide
Book Giving Day celebrated in Russia and worldwide

14.02.2020
Photo credit: steemitimages.com
Book Giving Day is celebrated around the globe on Friday, February 14, the Parlamentskaya gazeta newspaper writes. It unites everyone who is interested in promoting children's reading and a love of books.
The holiday appeared not so long ago, the first time it was celebrated in 2012. It was initiated by a US resident Amy Broadmoore, a mother of three children and a creator of a children's literature website. One day, one of her sons asked why there is no such day in the year when people give each other books for nothing. This was the incentive for the establishment of the holiday.
Bookgiving events dedicated to this day are becoming increasingly popular in the world. In Russia, in addition to ordinary citizens, many libraries across the country joined the celebration of the International Book Giving Day.
The Give Books with Love action was launched in Russia on February 10. For the fourth time, it is held to celebrate the Book-Giving Day. 
The project aims to attract the attention of as many people as possible. The main goal is to give each other good books. According to the organizers, no gadget can replace a printed book.
Project sites open in libraries, bookstores, museums and educational institutions. Book collections, literary readings, competitions, master classes, creative meetings with writers are held there. 
Russkiy Mir
News by subject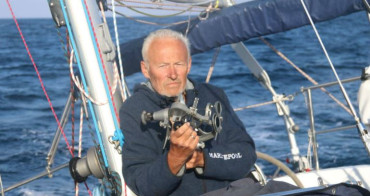 Igor Zaretsky, the legend of Russian and world yachting has celebrated birthdays and anniversaries in the open ocean time and again. The yachtsman from Yaroslavl admits that he may celebrate his 70th birthday in the Golden Globe Race, a single-handed round-the-world regatta. A year and a half ago, Zaretsky became the only Russian participant of the famous race, which was followed by the whole world. The tricolor has been flying over the yacht of the native of Yaroslavl in all oceans, except the Arctic one.