Finnish journalist amazed by Moscow's transformation
/ Главная / Russkiy Mir Foundation / News /

Finnish journalist amazed by Moscow's transformation
Finnish journalist amazed by Moscow's transformation

14.02.2020
Photo credit: Yle.fi
Erkka Mikkonen, journalist of the Finnish television channel YLE, called Moscow the "Great Capital," after returning from a trip to the Russian metropolis. Most of all, the Finn was struck by the transformation of Moscow in 10,5 years - the journalist visited the capital in 2003. Back then the journalist had different impressions of the Russian capital, RIA Novosti reports.
Erkka Mikkonen admired the center of Moscow, where there was no trace of the "mustiness" that the Finn had noticed in the early 2000s. The journalist loved the architecture and design of squares and parks, created with the involvement of international architectural agencies. The article provides the information about the amounts spent by the Moscow authorities on the improvement.
The Moscow ice rinks, which the journalist called "grandiose," deserved special praise. While riding at the VDNH exhibition center, he was charmed by a network of ice tracks and the sale of hot drinks. Erkka Mikkonen visited several Russian cities, but Moscow, according to the journalist, impressed him the most.
Russkiy Mir
News by subject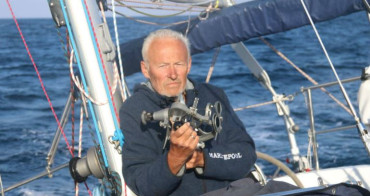 Igor Zaretsky, the legend of Russian and world yachting has celebrated birthdays and anniversaries in the open ocean time and again. The yachtsman from Yaroslavl admits that he may celebrate his 70th birthday in the Golden Globe Race, a single-handed round-the-world regatta. A year and a half ago, Zaretsky became the only Russian participant of the famous race, which was followed by the whole world. The tricolor has been flying over the yacht of the native of Yaroslavl in all oceans, except the Arctic one.