Finnish journalist amazed by Russian school meals
/ Главная / Russkiy Mir Foundation / News /

Finnish journalist amazed by Russian school meals
Finnish journalist amazed by Russian school meals

13.02.2020
Photo credit: iz.ru
Kerstin Kronvall, journalist of YLE TV channel, praised the diet and culture of eating in Russian schools after visiting the educational institution of Gatchina. The journalist wrote about the proposal of Russian president Vladimir Putin to provide all elementary school students with free hot meals and the support of this initiative from school staff, RIA Novosti reports.
Kronvall wrote that the children at the Gatchina school ate borsch and pasta with a patty for lunch. Bread and compote were also served for everyone. The journalist was delighted with the attitude of schoolchildren towards hygiene - the class washed their hands before sitting at the table. The Finnish correspondent also described in detail the system in Russian schools, according to which students of one class help with serving meals to other students.
The journalist also mentioned the culture of eating in school canteens. She described how children learn to behave at the table, handle cutlery, and also acquire communication skills for food.
Russkiy Mir
News by subject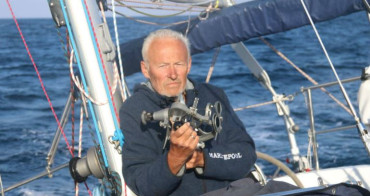 Igor Zaretsky, the legend of Russian and world yachting has celebrated birthdays and anniversaries in the open ocean time and again. The yachtsman from Yaroslavl admits that he may celebrate his 70th birthday in the Golden Globe Race, a single-handed round-the-world regatta. A year and a half ago, Zaretsky became the only Russian participant of the famous race, which was followed by the whole world. The tricolor has been flying over the yacht of the native of Yaroslavl in all oceans, except the Arctic one.