Putin: Russian language is country's fundamental value
/ Главная / Russkiy Mir Foundation / News /

Putin: Russian language is country's fundamental value
Putin: Russian language is country's fundamental value

13.02.2020
Photo credit: kremlin.ru
The Russian language is the fundamental value of the country, Russian President Vladimir Putin believes. He said this during meetings with a working group that is preparing amendments to the Constitution of the country, TASS reports.
According to the head of state, the language is one of the most important state-forming factors. Another of its functions is international communication.
Putin noted that, if the group members had a question about strengthening the status of the Russian language in the country's Basic Law, then there is a reason for this. Nevertheless, the Russian leader added, it is worth considering whether something needs to be changed in the Constitution in this regard.
Earlier, the public council under the Ministry of Culture of Russia took the initiative to enshrine constitutional amendments aimed at protecting the Russian language. According to members of the council, amendments should be made to the preamble of the basic law of Russia. It is proposed to supplement the text with the following amendments: "Saving the cultural heritage and civilizational identity of the people", "Protecting the purity of the Russian language and the languages of the peoples of Russia", "Having the main goal of exercising power is the preservation of the people".
Russkiy Mir
News by subject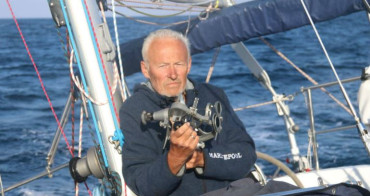 Igor Zaretsky, the legend of Russian and world yachting has celebrated birthdays and anniversaries in the open ocean time and again. The yachtsman from Yaroslavl admits that he may celebrate his 70th birthday in the Golden Globe Race, a single-handed round-the-world regatta. A year and a half ago, Zaretsky became the only Russian participant of the famous race, which was followed by the whole world. The tricolor has been flying over the yacht of the native of Yaroslavl in all oceans, except the Arctic one.