Charity ball in NY raised more than 100,000 dollars for Russian children
/ Главная / Russkiy Mir Foundation / News /

Charity ball in NY raised more than 100,000 dollars for Russian children
Charity ball in NY raised more than 100,000 dollars for Russian children

13.02.2020
Photo: therussianamerica.com
More than a 100,000 dollars were raised during the Petrushka charity ball in support of the Society for Assisting Russian Children. Funds will be sent to Russian hospitals for the treatment of children. The organizers of the ball also pay educational scholarships for orphans, provide assistance to orphanages, and sponsor the rehabilitation of children after injuries and illnesses, Russian America reports.
The annual Petrushka ball was held for the 55th time. The participants watched performances by folk groups and soloists of the Metropolitan Opera and danced historical dances themselves. The first charity balls were held in the middle of the 20th century.
The Petrushka ball was born from tea parties, in which emigrants of the first wave and their descendants took part. According to the organizers of the balls of the new time, people from Russia who have been in the USA in the last 10-15 years are taking an active part in their preparation.
Tatyana's Ball was held in Washington at the end of January. The proceeds from the sale of tickets went to a charity fund that helps children in difficult situations.
Russkiy Mir
News by subject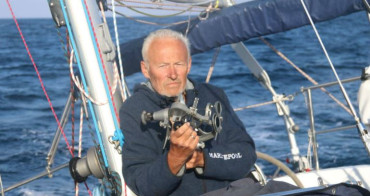 Igor Zaretsky, the legend of Russian and world yachting has celebrated birthdays and anniversaries in the open ocean time and again. The yachtsman from Yaroslavl admits that he may celebrate his 70th birthday in the Golden Globe Race, a single-handed round-the-world regatta. A year and a half ago, Zaretsky became the only Russian participant of the famous race, which was followed by the whole world. The tricolor has been flying over the yacht of the native of Yaroslavl in all oceans, except the Arctic one.