Russia's MFA calls Warsaw's war with monuments "shameful"
/ Главная / Russkiy Mir Foundation / News /

Russia's MFA calls Warsaw's war with monuments "shameful"
Russia's MFA calls Warsaw's war with monuments "shameful"

13.02.2020
Photo credit: Russian Foreign Ministry
Warsaw continues to wage a "shameful war" with monuments to those who brought freedom to the people of Poland and other European nations, Russian Foreign Ministry spokeswoman Maria Zakharova said. According to her, another act of state vandalism occurred in Poland, RIA Novosti reports. The main goal of such a policy is to destroy the memorial heritage in the country.
The authorities are doing their best to do as much as possible the damage that has already been done to bilateral relations between Russia and Poland. At the end of last week, a monument of gratitude to the Red Army in Leshno was demolished by local authorities. The city leadership freed up space for the installation of a boulder in honor of the 100th anniversary of the return of Leszno to Poland. The Federation Council condemned the demolition.
The monument in Leszno opened after the end of World War II, the monument was decorated with inscriptions in Russian and Polish saying "Eternal glory to the heroes who fell in the struggle for freedom and independence of the Soviet Union and Poland!" The monument was erected at the burial sites of Soviet soldiers who fell in the battles for the liberation of Poland. Later, their remains were reburied at the cemetery in Ravic.
The Russian Foreign Ministry emphasized that "the Polish authorities go beyond the boundaries of the behavior of civilized states."
Russkiy Mir
News by subject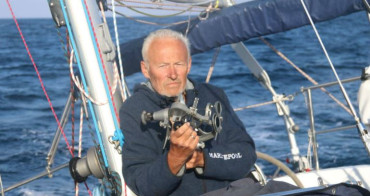 Igor Zaretsky, the legend of Russian and world yachting has celebrated birthdays and anniversaries in the open ocean time and again. The yachtsman from Yaroslavl admits that he may celebrate his 70th birthday in the Golden Globe Race, a single-handed round-the-world regatta. A year and a half ago, Zaretsky became the only Russian participant of the famous race, which was followed by the whole world. The tricolor has been flying over the yacht of the native of Yaroslavl in all oceans, except the Arctic one.