Final of All-Russian Russian language competition held in Madrid
/ Главная / Russkiy Mir Foundation / News /

Final of All-Russian Russian language competition held in Madrid
Final of All-Russian Russian language competition held in Madrid

13.11.2019
On November 10, the Russian Center for Science and Culture (RCSC) hosted the final of the All-Russian competition in the Russian language, which was supported by the Russkiy Mir Foundation.
In 2019, over 400 children and adolescents from bilingual families and families of compatriots, as well as foreign students who study Russian as a foreign language, took part in the competition. Schools from Alicante, Almeria, Barcelona, ​​Valencia, Valladolid, Gandia, San Juan, Madrid, Mallorca and Torrevieja participated in the regional qualifying round.
This year adolescents from 14 to 17 years old, who had previously demonstrated confident knowledge of the Russian language, could also test their knowledge of Russian literature, history and culture.
This year, the competition was dedicated to fairy tales. Many tasks were also associated with works of the famous Russian poet Alexander Pushkin.
Most participants showed excellent results, thus confirming the high level of teaching the Russian language, literature and history in educational centers at the associations of Russian compatriots in Spain.
Winners of the competition received award cups and medals, as well as valuable gifts: electronic tablets and games; souvenirs and books were prepared for each finalist, and all participants without exception were awarded diplomas and diplomas.
The Organizing committee of the competition
News by subject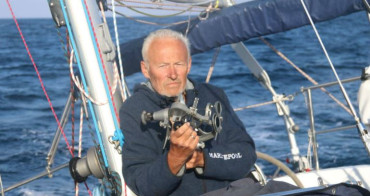 Igor Zaretsky, the legend of Russian and world yachting has celebrated birthdays and anniversaries in the open ocean time and again. The yachtsman from Yaroslavl admits that he may celebrate his 70th birthday in the Golden Globe Race, a single-handed round-the-world regatta. A year and a half ago, Zaretsky became the only Russian participant of the famous race, which was followed by the whole world. The tricolor has been flying over the yacht of the native of Yaroslavl in all oceans, except the Arctic one.