5th Eastern Economic Forum takes place in Vladivostok
/ Главная / Russkiy Mir Foundation / News /

5th Eastern Economic Forum takes place in Vladivostok
5th Eastern Economic Forum takes place in Vladivostok

05.09.2019
Photo: Domestic Policy Office of Jewish Autonomous Region
Delegations from Japan, China, South Korea and India have leading number of participants at the fifth 
Eastern Economic Forum
 (EEF), which opened in Vladivostok. About 140 heads of large foreign companies came to the forum. One of the main topics of discussion will be the national development program for the Far East, TASS reports.
Representatives of dozens of countries, including the United States and Britain, are participating in the EEF, which will last until September 6. The forum will feature the leaders of Russia, India, Japan, Mongolia and Malaysia. The main theme of the forum, which will include about seventy events is the development of the Far East.
The forum will host the presentation of the National Program for the Development of the Far East (designed until 2025 with the possibility of extension for another ten years). The economic and tourist opportunities of the region will also be presented. Representatives of Russian and foreign business will get acquainted with state support measures for investors in Far Eastern projects. 
The EEF's central event will be a plenary meeting with the participation of Russian President Vladimir Putin, which will be held on September 5. The speech of the Russian leader will also concern the acceleration of the pace of development of the Far East. In addition, Vladimir Putin intends to raise the issue of security in the Asia-Pacific region.
Russkiy Mir
News by subject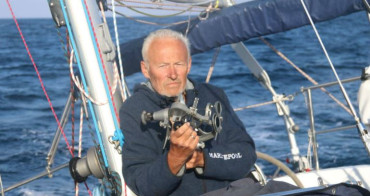 Igor Zaretsky, the legend of Russian and world yachting has celebrated birthdays and anniversaries in the open ocean time and again. The yachtsman from Yaroslavl admits that he may celebrate his 70th birthday in the Golden Globe Race, a single-handed round-the-world regatta. A year and a half ago, Zaretsky became the only Russian participant of the famous race, which was followed by the whole world. The tricolor has been flying over the yacht of the native of Yaroslavl in all oceans, except the Arctic one.