Russian-British Orchestra tours Russia and Great Britain
/ Главная / Russkiy Mir Foundation / News /

Russian-British Orchestra tours Russia and Great Britain
Russian-British Orchestra tours Russia and Great Britain

04.09.2019
Photo credit: pixabay.com
The works of Dmitry Shostakovich, Sergey Prokofiev and famous English composers performed by the Russian-British orchestra will be presented in September to the audience of Moscow, St. Petersburg, Sochi and the cities of Great Britain. The Britten-Shostakovich Festival Orchestra, which has gathered talented young musicians from Russia and the UK, goes on a big tour in two countries, Musical Life reports.
The author of the idea of ​​is the British Jan Latham-Koenig, chief conductor of the New Opera theater in Moscow. It is symbolic that the orchestra appeared at the height of the Year of Music of Russia and Great Britain.
The orchestra includes 86 performers studying at the leading music educational institutions of the two countries - the Moscow State Conservatory, Gnessin Russian Academy of Music, the London Royal Academy of Music, Oxford University and others.
In September, the orchestra will gather in the Sochi Sirius center and begin work on the program, and on September 9 a concert will be held in the local Park of Science and Art.
The names of Dmitry Shostakovich and Benjamin Britten were included in the name of the new orchestra, since Jan Latham-König was inspired by the long-standing friendship of prominent Russian and British composers, which was not hindered by either the Cold War or the language barrier.
Russkiy Mir
News by subject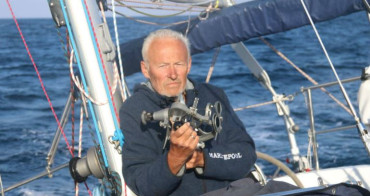 Igor Zaretsky, the legend of Russian and world yachting has celebrated birthdays and anniversaries in the open ocean time and again. The yachtsman from Yaroslavl admits that he may celebrate his 70th birthday in the Golden Globe Race, a single-handed round-the-world regatta. A year and a half ago, Zaretsky became the only Russian participant of the famous race, which was followed by the whole world. The tricolor has been flying over the yacht of the native of Yaroslavl in all oceans, except the Arctic one.