New translations of Pushkin into English to be grant-funded
/ Главная / Russkiy Mir Foundation / News /

New translations of Pushkin into English to be grant-funded
New translations of Pushkin into English to be grant-funded

23.08.2019
Photo credit: gorod24.online
New translations of Pushkin's poems into English will be undertaken by Margarita Rudomino All-Russia State Library for Foreign Literature. It became the winner of a grant competition for the implementation of the Interpreter in the XXI century - a factor in cultural dialogue. Transmission of the Russian language and literature through the creation of new translations of Pushkin's works project. The funds for the project were allocated by Rossotrudnichestvo with the assistance of the University of Glasgow. The project is supported by the Institute of Translation, the site of the Year of Literature writes.
The project will be conducted later this year in Scotland. It aims to popularize the Russian language and literature. A series of scientific and practical meetings will be held in Glasgow, the main topic of which will be a discussion of the significance that literary translation has in modern times in intercultural communication.
The work of the School of Young Translators is also on the schedule. A series of master classes will be held under this name.
The program is organized at the Glasgow University School of Modern Languages ​​and Cultures. Representatives of the library will discuss the establishment of a Center for Slavic cultures with the university management.
This project will usher in the tradition of hosting annual science forums at the Scottish university.
Russkiy Mir
News by subject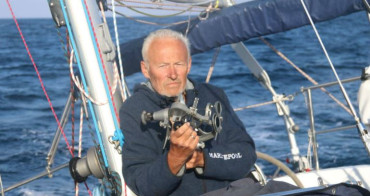 Igor Zaretsky, the legend of Russian and world yachting has celebrated birthdays and anniversaries in the open ocean time and again. The yachtsman from Yaroslavl admits that he may celebrate his 70th birthday in the Golden Globe Race, a single-handed round-the-world regatta. A year and a half ago, Zaretsky became the only Russian participant of the famous race, which was followed by the whole world. The tricolor has been flying over the yacht of the native of Yaroslavl in all oceans, except the Arctic one.