Deauville hosts festival of Russian art once again
/ Главная / Russkiy Mir Foundation / News /

Deauville hosts festival of Russian art once again
Deauville hosts festival of Russian art once again

22.08.2019
Photo credit: www.zedge.net
The famous French resort of Deauville will turn into a center of Russian art for the next three days, TASS reports. The festival of Russian culture opens on August 22 in Normandy for the second time. This year the festival is devoted to Russian composers who wrote music for ballet performances.
According to producer Veronika Bogatyreva, the festival is a series of educational, cultural and entertainment events. They are united by a cross-cutting theme - the contribution of Russian artists to world culture. 
Russkiy Mir reported that the first festival in Deauville was dedicated to Diaghilev's Russian Seasons, which were a huge success at the beginning of the last century among the French public.
The current show is called the Music Box. Spectators will have the opportunity to see ballets staged to the music of Tchaikovsky, Rachmaninov, Stravinsky. Classical choreographic performances will be complemented by music by modern authors - Shchedrin, Demutsky, Krasavin.
The soloists of the Bolshoi, Mariinsky, Boris Eifman theaters will take the stage. Artyom Ovcharenko, Nina Kaptsova, Semyon Chudin, Denis Savin, Lyubov Andreeva, Elena Solomyanko and many others are among them. The program is composed of excerpts from the masterpieces of world choreography. The audience will also see the Moon Pool exhibition project by contemporary Russian artist Nikolay Koshelev.
The vocal program for this season is being prepared by the invited soloist of the Bolshoi Opera and the author of the Davidova Opera Band musical project Daria Davydova.
Russkiy Mir 
News by subject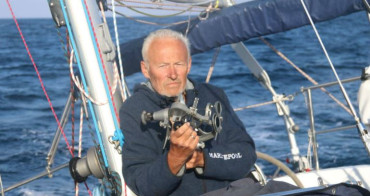 Igor Zaretsky, the legend of Russian and world yachting has celebrated birthdays and anniversaries in the open ocean time and again. The yachtsman from Yaroslavl admits that he may celebrate his 70th birthday in the Golden Globe Race, a single-handed round-the-world regatta. A year and a half ago, Zaretsky became the only Russian participant of the famous race, which was followed by the whole world. The tricolor has been flying over the yacht of the native of Yaroslavl in all oceans, except the Arctic one.