Varna hosts international school for young Russian scholars
/ Главная / Russkiy Mir Foundation / News /

Varna hosts international school for young Russian scholars
Varna hosts international school for young Russian scholars

20.08.2019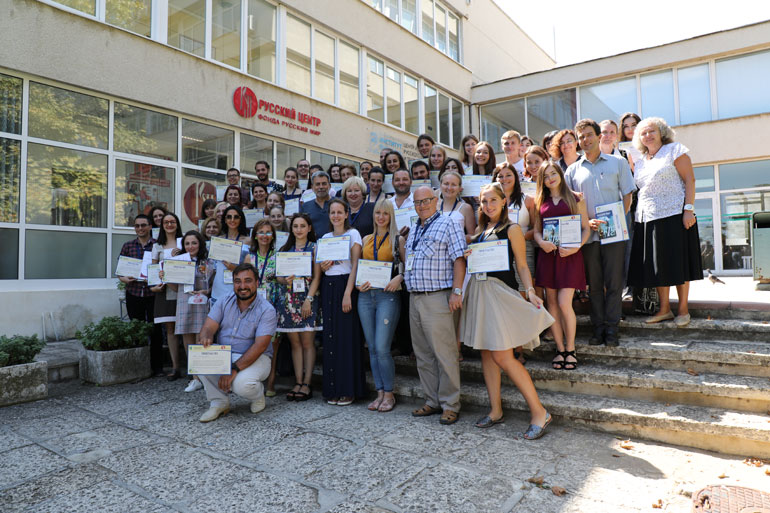 The 11th International Qualification School Modern Pedagogical Technologies in Teaching Russian as a Foreign Language began working in Varna on August 19. The International Qualification School is one of the most successful projects of the Varna Free University named after Chernivtsi Khabra and the Russkiy Mir Foundation. 
The project started in 2009, the year the Russian Center was opened at the university. Since then, the school has transformed from national to international and has become one of the most famous and significant methodological schools in the field of teaching Russian as a foreign language (RFL) in Europe, aimed at improving the methodological training of young specialists on the verge of their professional fulfillment as teachers of the Russian language.
The key theme of the school is innovative pedagogical technologies and their application in the process of teaching the Russian language. The learning technologies of RFL – the museum, sightseeing, problematic, theatrical, musical, design and portfolio technology - are correspondent to modern ideas of personality-oriented learning. They create the conditions for the realization of creative potential, the development of innovative thinking and linguistic competence.
Thus far, 619 graduates from all over the world who teach Russian in Azerbaijan, Belarus, Bulgaria, Greece, Georgia, Estonia, Italy, Kazakhstan, Kyrgyzstan, Latvia, Lithuania, Moldova, Poland, Russia, Romania, Serbia, Ukraine, Hungary and the Czech Republic have studied and received certificates in the only methodological school for young Russian scholars in Europe.
Students of the school were representatives of 30 European and Asian universities from 18 countries.
Russkiy Mir
News by subject