Head of society of compatriots spoke about popularity of Russian education in Malaysia
/ Главная / Russkiy Mir Foundation / News /

Head of society of compatriots spoke about popularity of Russian education in Malaysia
Head of society of compatriots spoke about popularity of Russian education in Malaysia

07.08.2019
Photo credit: Rossotrudnichestvo
A quarter of Malaysian doctors have a Russian or Soviet education. There is a strong belief in the country that medical and engineering professions are best taught at Russian universities.
According to the creator and head of the International Association of Russian-speaking Compatriots in Malaysia (IARC) Katerina Chulkova, the organization helps to enhance Russia's image in Malaysia, the website of the Moscow House of the Compatriots reports.
IARC was created in April 2019 at the initiative of Russian-speaking compatriots. According to Chulkova, the majority of  Russian-speaking residents of Malaysia are highly qualified specialists and are in demand in education, medicine and innovative fields.
Over the four months of the organization's existence, a series of events took place on the occasion of Victory Day, including Zarnitsa patriotic game. The compatriots also laid flowers at memorable places of the Second World War. The members of the association of Russian-speaking compatriots held several sporting events and evenings dedicated to Russian literature and cinema.
According to Chulkova, the association seeks to cooperate with public organizations in Malaysia and to promote the Russian language and culture in the country. As part of the celebration of the 220th anniversary of Alexander Pushkin, compatriots held the Pushkin evening in English.
Chulkova arrived in Moscow with young participants of the Russian-speaking association who became winners of the Hello Russia! Competition program. Young people were chosen for educational projects dedicated to the Great Patriotic War.
Russkiy Mir
News by subject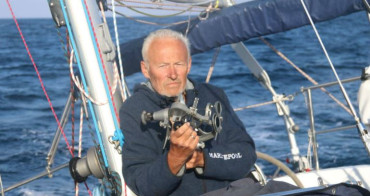 Igor Zaretsky, the legend of Russian and world yachting has celebrated birthdays and anniversaries in the open ocean time and again. The yachtsman from Yaroslavl admits that he may celebrate his 70th birthday in the Golden Globe Race, a single-handed round-the-world regatta. A year and a half ago, Zaretsky became the only Russian participant of the famous race, which was followed by the whole world. The tricolor has been flying over the yacht of the native of Yaroslavl in all oceans, except the Arctic one.