Pushkin World: event dedicated to poet's work held in Tokyo
/ Главная / Russkiy Mir Foundation / News /

Pushkin World: event dedicated to poet's work held in Tokyo
Pushkin World: event dedicated to poet's work held in Tokyo

17.07.2019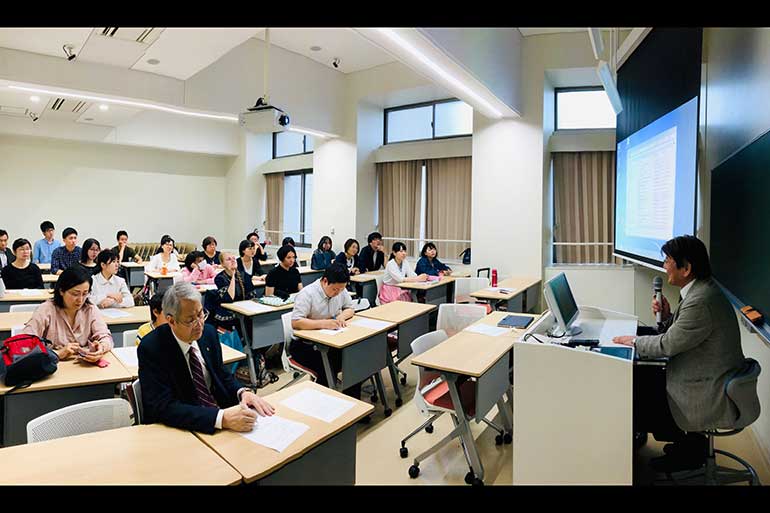 Pushkin World event dedicated to the 220th anniversary of the poet's birth and to the three-year anniversary of Russian Center was held at Soka University in Tokyo. About 30 students attended it, including Russians, graduates and local residents. The event began with a half-hour documentary on the life of Pushkin with subtitles in Japanese.
Professor Sasaki, Head of the Department of Russian language and Culture, gave a lecture on the poet's works, in which students studied the structure of Russian poetry and the uniqueness of Pushkin's poems. A student from Moscow and a student of Soka University read aloud the poet's verses, thanks to which even the Japanese, who do not know Russian, could admire the beauty of Pushkin's work.
The participants opened Pushkin World exhibition, which presents the poet's most famous poems in sound recordings, which visitors could listen to on their smartphones, as well as the complete collection of Pushkin and books about him.
Visitors left admiring reviews in the book of the Russian Center: "I came here by chance, and I became acquainted with Russian poetry for the first time. I am ashamed that I did not know anything, but I will read Pushkin's works in translation". "How nice it is to listen to how beautiful Russian poetry sounds! Thanks to the exhibition organizers!"
M. Eguchi, Tokyo
News by subject