Russkiy Mir Foundation is happy to cooperate with partners in Ethiopia
/ Главная / Russkiy Mir Foundation / News /

Russkiy Mir Foundation is happy to cooperate with partners in Ethiopia
Russkiy Mir Foundation is happy to cooperate with partners in Ethiopia

05.07.2019
The Night of Friendship between Russia and Ethiopia, timed to coincide with the 60th anniversary of the arrival of the Emperor of Ethiopia Haile Selassie I to the Soviet Union, took place in Moscow on July 3. Ambassador of Ethiopia in Moscow Alemayehu Tegenu, who presented credentials to Russian President Vladimir Putin among the ambassadors of another 17 countries on the same day; Russian Ambassador in Ethiopia Mikhail Afanasyev; Director of Russian Center for Science and Culture in Addis Ababa Vyacheslav Konnik; representatives of Russian Ministry of Foreign Affairs, Rossotrudnichestvo, Russkiy Mir Foundation, the Association of the Ethiopian Community in Russia, the Society of Friendship of the Peoples of Ethiopia and Russia, and other scientific and public organizations attended the event.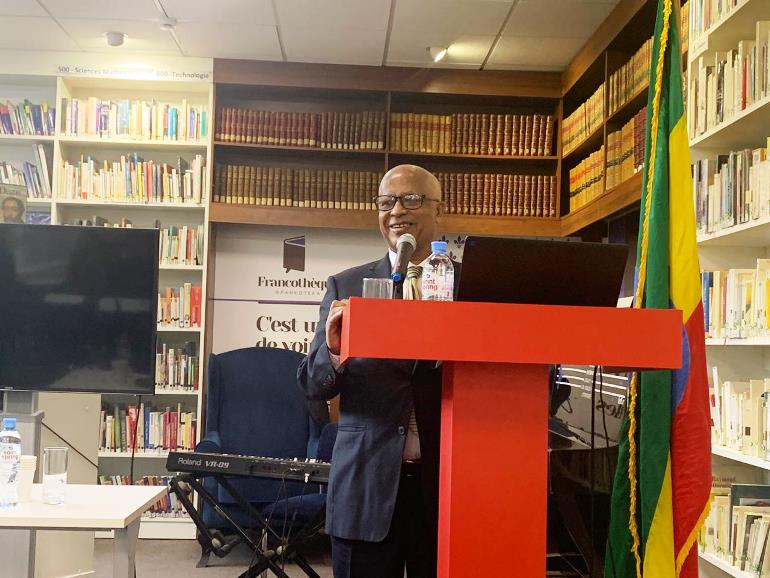 Ambassador of Ethiopia in Moscow Alemayehu Tegenu
Sergey Shurygin, Deputy Executive Director of Russkiy Mir Foundation, addressed the audience with a welcoming speech, spoke about projects supported by the Foundation in Ethiopia, inviting Ethiopian partners to cooperate and participate in international promotions and creative competitions of the Foundation. As Shurygin stated, Russkiy Mir Foundation is ready to support the organization of Russian language courses for Ethiopian students who will study at Russian universities.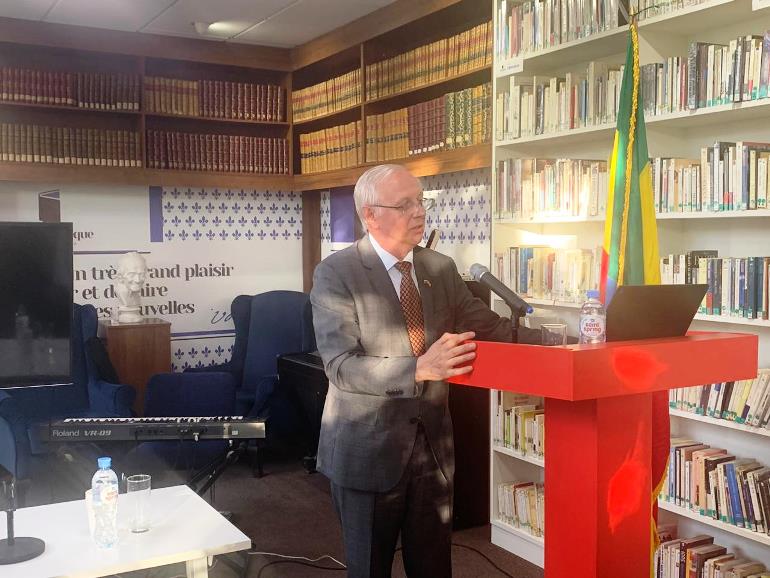 Sergey Shurygin
The meeting was held in the Rudomino All-Russian State Library for Foreign Literature. A book exhibition in the languages ​​of Ethiopia was launched for guests, cultural objects provided by the Ethiopian diaspora were shown. The Museum of Russian Icon, which also has a large collection of religious objects from Ethiopia, has prepared a presentation entitled The Christian Art of Ethiopia in IRI. The presentation of the Haile Selassie I - Emperor of Ethiopia book in Russian and V. V. Putin book in Amharic also took place.
Live Ethiopian music sounded at the party. There was a tasting of Ethiopian dishes, and the "open microphone" where any of the guests could speak on the theme of friendship between the peoples of Russia and Ethiopia.
Russkiy Mir 
News by subject