The Magic of Kamchatka in Innsbruck
/ Главная / Russkiy Mir Foundation / News /

The Magic of Kamchatka in Innsbruck
The Magic of Kamchatka in Innsbruck

28.06.2019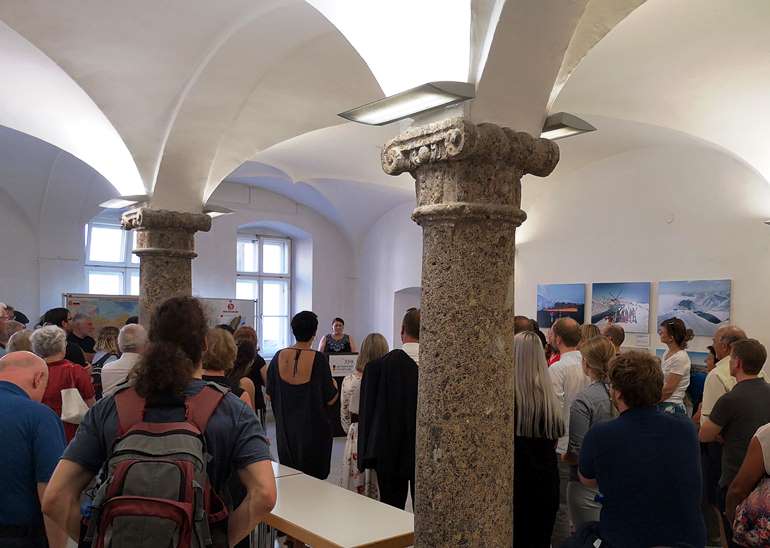 The opening ceremony of the exhibition of Russian photographer Maxim Balakhovsky "Magic of Kamchatka", which was provided to the Russian center of Innsbruck by the Consulate General of the Russian Federation in Salzburg, was held in the Claudiana Gallery of the University of Innsbruck on Monday, June 24.
Consul General of the Russian Federation in Salzburg, Sergei Maguta opened the exhibition. He welcomed the participants and said a few words about the diversity of the nature of Russia, the largest country of the world. In a short introductory report, Winfried Jaschke, a teacher at one of the Innsbruck gymnasiums, spoke about his impressions of a trip to Kamchatka, advising everyone to visit this beautiful peninsula.
The exhibition includes 30 works by one of the organizers of tourism in Kamchatka, an athlete and photographer Maxim Balakhovsky, the winner of a number of All-Russian photo competitions of recent years, including The Best of Russia. The photos selected for the exhibition present Kamchatka in its pristine beauty. They show the wild nature of the region, impressive landscapes with volcanoes and the ocean shore, wildlife, as well as people discovering this unique protected region of Russia with its enormous tourist potential.
About 70 people came to the opening of the exhibition to see beautiful photos and learn more about the peninsula in northeastern Russia with its magical nature. In conclusion, Russian Center of the University of Innsbruck marked the end of the academic semester with a dinner and thanked everyone for their interest and active participation in the events in the spring semester. We hope for an equally numerous and interested public in the winter semester.
The exhibition will be open until July 26, 2019.
Mariyana Milosevic, Innsbruck 
News by subject