Russia and Australia are tied by common culture and history, expert says
/ Главная / Russkiy Mir Foundation / News /

Russia and Australia are tied by common culture and history, expert says
Russia and Australia are tied by common culture and history, expert says

26.06.2019
Photo credit: mosds.mos.ru
Minister Counselor of Australian Embassy in Russia Jill Collins has included Russia in the list of priority countries for Australia for the development of trade and economic cooperation.
At the meeting with students of Moscow City University of Management, diplomat spoke about the fact that Russia and Australia are actively developing cooperation in agriculture, new technologies and other areas, Moscow House of Compatriots reports.
According to Jill Collins, meat and other agricultural products, as well as equipment and starches, come from Australia to Russia. Russia supplies oil, gas, wood and fertilizers to the Green Continent.
Australian diplomat believes that, despite the geographical distance, the two countries have much in common. In particular, they are linked by a common history and culture. For example, in Australia, Russian ship Suvorov is widely known, which brought the Australians the news of the victory over Napoleon.
Russian immigrants who have made a great contribution to the development of the country are deeply revered in Australia. According to Jill Collins, tourists are currently supported by cultural interaction. Australians are discovering Russia, returning from trips with enthusiastic reviews, and Russian direction is becoming increasingly popular in the country.
During the conversation, the diplomat answered the students' questions and invited them to get an education in Australia. Also they discussed issues of urban management, urban environment design, ecology and other topics that are actively developing in Australia.
Russkiy Mir
News by subject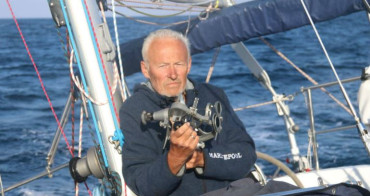 Igor Zaretsky, the legend of Russian and world yachting has celebrated birthdays and anniversaries in the open ocean time and again. The yachtsman from Yaroslavl admits that he may celebrate his 70th birthday in the Golden Globe Race, a single-handed round-the-world regatta. A year and a half ago, Zaretsky became the only Russian participant of the famous race, which was followed by the whole world. The tricolor has been flying over the yacht of the native of Yaroslavl in all oceans, except the Arctic one.