Russian House Association established in Tunisia
/ Главная / Russkiy Mir Foundation / News /

Russian House Association established in Tunisia
Russian House Association established in Tunisia

18.06.2019
The Russian House Association was established in Tunisia, the website of the World Coordinating Council of Russian Compatriots Organizations reports.
According to Russian Ambassador Sergei Nikolayev, this initiative deserves the highest marks. Diplomat expressed confidence that the activities of compatriots is of great importance. Using the accumulated life experience and knowledge, they strengthen relations between our countries based on friendship and mutual understanding.
Photo credit: Embassy of Russian Federation, Natalia Kupcha
Among the organizers of Russian House are Tunisian citizen Shafika Shamas and two compatriots living in Tunisia, Ekaterina Skorokhodova and Natalia Kupcha. 
Photo credit: Embassy of Russian Federation
The activity of the new organization is aimed at strengthening bilateral ties between Russia and Tunisia in field of economy, culture, trade and education. It is planned that Russian House will hold exhibitions, fairs, business and partner meetings to promote trade between Russia and Tunisia. In addition, it will establish contacts with Russian cultural organizations and chambers of commerce to strengthen Russian partnership with Tunisia.
Russian House will promote the positive image of Russia and popularize Russian language. 
Russkiy Mir
News by subject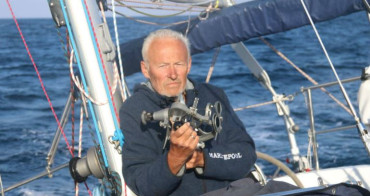 Igor Zaretsky, the legend of Russian and world yachting has celebrated birthdays and anniversaries in the open ocean time and again. The yachtsman from Yaroslavl admits that he may celebrate his 70th birthday in the Golden Globe Race, a single-handed round-the-world regatta. A year and a half ago, Zaretsky became the only Russian participant of the famous race, which was followed by the whole world. The tricolor has been flying over the yacht of the native of Yaroslavl in all oceans, except the Arctic one.