70th anniversary of establishing diplomatic relations between China and Russia celebrated in Guangzhou
/ Главная / Russkiy Mir Foundation / News /

70th anniversary of establishing diplomatic relations between China and Russia celebrated in Guangzhou
70th anniversary of establishing diplomatic relations between China and Russia celebrated in Guangzhou

25.05.2019
The Russian Language Day and the award ceremony for the winners of calligraphy, drawing and essay contests dedicated to the 70th anniversary of diplomatic relations between China and Russia took place on May 23 for the ninth time. The celebrations and contests were organized by Guangdong University of Foreign Studies.
Bilateral relations between China and Russia are becoming more and more stable over time. There is mutual political trust, beneficial cooperation in the economic sphere and support in international affairs between two countries. It exemplifies the relations of the great powers and makes a huge contribution to ensuring stability and peace in the region and in the whole world.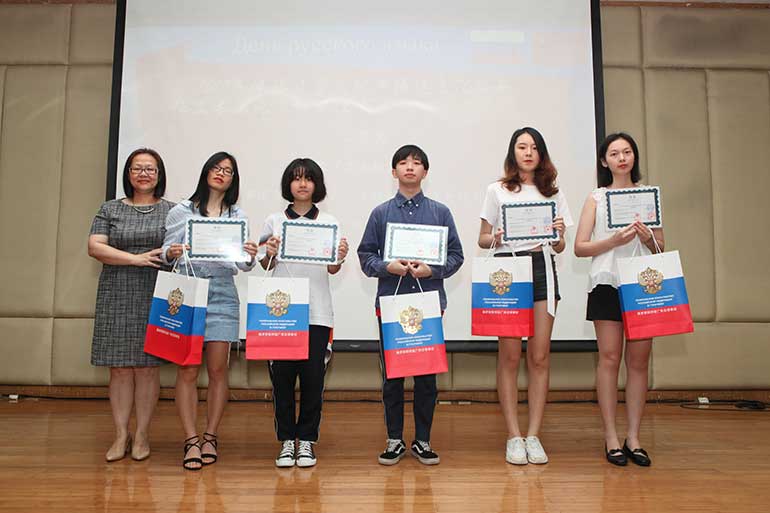 The Deputy Consul General of Russia in Guangzhou, Alexander Smirnov, and the Vice-Rector of the Guangdong University of Foreign Studies, professor Liang Xuehong, spoke at the ceremony. The sides expressed mutual gratitude for their cooperation and hope that the holding of such events as the Day of the Russian language would contribute to the development of humanitarian exchange, and thus stimulate the deepening of Chinese-Russian relations.
Many essays and drawings of students from the Russian language faculties of various universities and students from secondary schools in southern China participated in the contests. The participants showed their talents and expressed love for the Russian language in various forms of creativity. As a result, Peng Junyuy, a student of the faculty of the Russian language won first place in the essay competition and got the opportunity to go to Russia.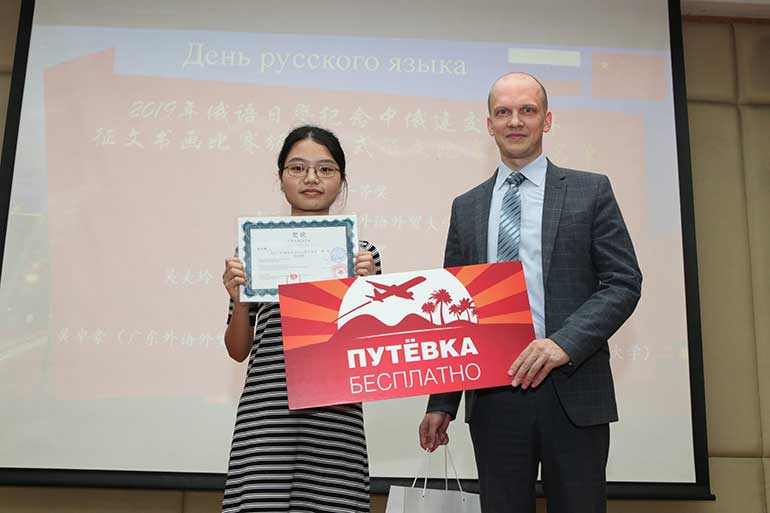 After that there were performances of students of universities and schools in the framework of the concert dedicated to the Day of the Russian language. Reading poetry, dubbing the film, performing songs and dances in honor of the 70th anniversary of the establishment of diplomatic relations between China and Russia, demonstrated to the audience the uniqueness of Russian culture.
Lin Wei, Pen Xuan, Huang Xiaoi, Guangzhou
News by subject