School student from Murmansk wins at International Exhibition of Inventions in Geneva
/ Главная / Russkiy Mir Foundation / News /

School student from Murmansk wins at International Exhibition of Inventions in Geneva
School student from Murmansk wins at International Exhibition of Inventions in Geneva

23.04.2019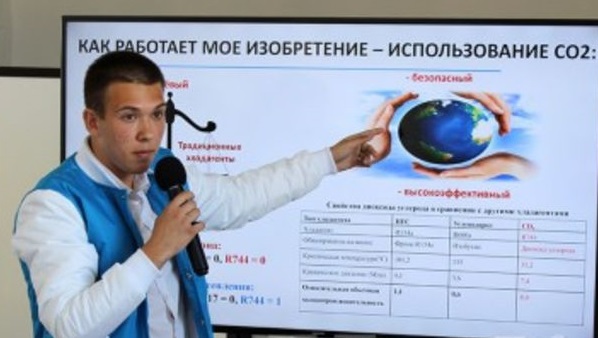 Photo:  severpost.ru
The refrigeration unit using carbon dioxide has taken the first prize at the International Exhibition of Inventions in Geneva. It was presented by a tenth-grader from the village of Nikel, Murmansk Oblast, Gleb Kharchenko. It is the first time in the history of the exhibition when a school student became the winner. Foreign and Russian industrial enterprises have already shown interest in Kharchenko's work, Meteonovosti reports.
Kharchenko got back home with a gold medal and a special award from the Royal University of Saudi Arabia. He presented to the jury a prototype of a household refrigeration unit operating on carbon dioxide. It is different from classic refrigerators, which usually use halocarbons. Kharchenko's invention is cheaper and more environmentally friendly. In addition, carbon dioxide has a stronger freezing power than other known chemicals, which allows the user to install a compressor of lower power.
The school student personally presented his work in Geneva. A queue of those wishing to learn more about his invention lined up to meet him. Kharchenko exchanged contacts with a number of well-known companies. He is now in the process of obtaining a patent for his invention. According to the student, he intends to create a centralized cold supply system on the ground of his work. It will allow to supply cold to apartments the way the heating system does. 
Russkiy Mir 
News by subject