Pushkin Reserve opens Days of Russian Culture in Germany
/ Главная / Russkiy Mir Foundation / News /

Pushkin Reserve opens Days of Russian Culture in Germany
Pushkin Reserve opens Days of Russian Culture in Germany

28.03.2019
Photo: russianseasons.org
Days of Russian culture start in Berlin on Thursday, March 28. They were prepared by Mikhailovskoe Pushkin Museum-Reserve. The festival will be included in Russian Seasons in Germany. Its program is designed for children and adults. 
Guests will be invited to the exhibition of Russian folk costume. The collection of dresses, which Russian peasant women and representatives of other classes were wearing, consists of miniature copies. They were created on the models of authentic costumes, stored in the museum funds. 
The exhibition will work for a month, until April 28. 
Kolobok
play is offered for family viewing. Artists of Petrushkina Balovnya museum puppet theater will perform well-known Russian folk tale. The audience will take part in village gatherings. The museum explained that staging a fairy tale in this format would allow the public to touch the everyday life and folklore and to feel like characters and creators of the story. 
Items of Russian life, puppets and decorations made by the Mikhailovskoe craft center according to ancient technologies will help the audience to immerse themselves in the fairy tale. 
On the evening of March 28, Pushkin Village folklore group will perform the Russian Folk Games program. Viewers will get to Russian village and play folk games that were popular in the village in the 19th century with actors. They will also learn how to dance the Cossack with harmonica. 
Pushkin Village is bringing museum staff together for 10 years. The team performs folk songs, including ones that Pushkin recorded in Mikhailovskoe himself.
Russkiy Mir
News by subject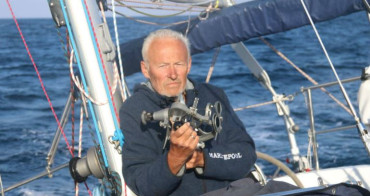 Igor Zaretsky, the legend of Russian and world yachting has celebrated birthdays and anniversaries in the open ocean time and again. The yachtsman from Yaroslavl admits that he may celebrate his 70th birthday in the Golden Globe Race, a single-handed round-the-world regatta. A year and a half ago, Zaretsky became the only Russian participant of the famous race, which was followed by the whole world. The tricolor has been flying over the yacht of the native of Yaroslavl in all oceans, except the Arctic one.