Representatives of 60 countries gathered at Investment Forum in Sochi
/ Главная / Russkiy Mir Foundation / News /

Representatives of 60 countries gathered at Investment Forum in Sochi
Representatives of 60 countries gathered at Investment Forum in Sochi

14.02.2019
Photo: rusinvestforum.org
Russian Investment Forum starts today, February 14. Traditionally, Sochi is the venue, the forum website reports. The implementation of national projects will be the main theme of the meeting. Roscongress Foundation is the organizer. 
The forum will bring together more than 3000 participants from 60 countries. 55 events in 3 areas are planned. They concern the regional policy, business climate in Russia and social agenda. Over 1300 media representatives will cover the events. 
Volunteers will help guests and participants of the forum. About 300 students from local universities are entrusted with the task of meeting guests. They help with accreditation and navigation. 
Large-scale sports and cultural program will be held within the framework of the forum. A massive run will take place on Sochi Autodrom track, where the Russian stage of Formula 1 racing series takes place. Chess competitions are also scheduled.
Investment Forum participants will be invited to gala concert of the All-Russian Youth Symphony Orchestra conducted by maestro Yuri Bashmet. Don't Leave Your Planet play will be performed. It is based on The Little Prince book by Antoine de Saint-Exupery. Konstantin Khabensky and Yuri Bashmet will take the stage.
Russkiy Mir
News by subject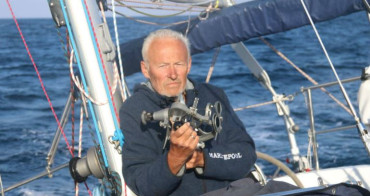 Igor Zaretsky, the legend of Russian and world yachting has celebrated birthdays and anniversaries in the open ocean time and again. The yachtsman from Yaroslavl admits that he may celebrate his 70th birthday in the Golden Globe Race, a single-handed round-the-world regatta. A year and a half ago, Zaretsky became the only Russian participant of the famous race, which was followed by the whole world. The tricolor has been flying over the yacht of the native of Yaroslavl in all oceans, except the Arctic one.