Russian antiquities being donated to Russian Center in New York
/ Главная / Russkiy Mir Foundation / News /

Russian antiquities being donated to Russian Center in New York
Russian antiquities being donated to Russian Center in New York

15.01.2019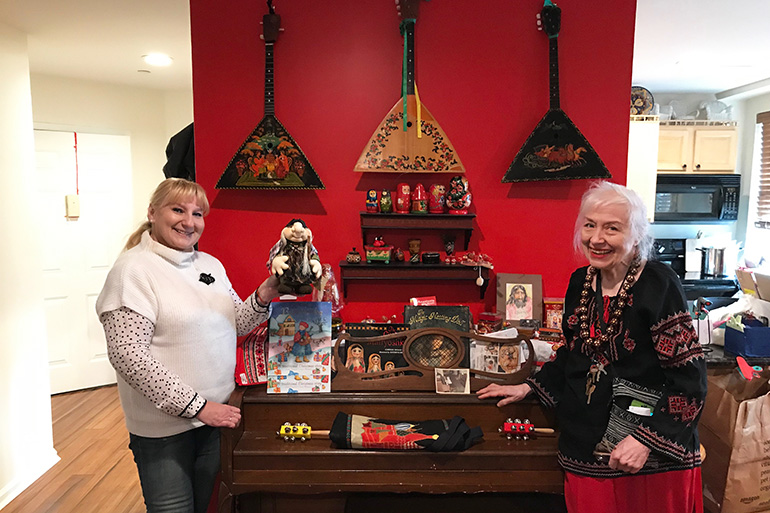 The representatives of the Russian Center in New York visited the educator Nilda Garses on January 9. All her life, Nilda was related to Russian culture and art. Being born in Puerto Rico, Nilda heard the sound of balalaika in her childhood and fell in love with everything Russian and the country itself. She visited Russia more than 12 times, and collected many albums and pictures from different Russian cities.
The personal acquaintance with animator artist Yuri Norstein made her love Russian and Soviet art even stronger.
We were amused by how carefully Nilda keeps Russian antiquities, artworks and musical instruments, etc. in her small house, which is filled with the sounds of Russian folk music even if nobody's home. 
Nilda Garses donated her huge collection of Russian folk costumes, toys, musical instruments and books to the Russian Center in New York. In turn, we invited her to visit the Center in New York, meet the students, and attend festival programs.
Along with that, on January 12, Russian Center held the first film screenings prepared for the Short Film Day 2018 all-Russian action. The best works of modern cartoonists were shown to the children and their parents. More than 40 people attended the show. 
Russian Center will show a further film selection named Short Film Stars on January 19.
Marina Terentieva, New York
News by subject