Russian students talked about Rainer Maria Rilke's ties with Russia in Saxony's Landtag
/ Главная / Russkiy Mir Foundation / News /

Russian students talked about Rainer Maria Rilke's ties with Russia in Saxony's Landtag
Russian students talked about Rainer Maria Rilke's ties with Russia in Saxony's Landtag

04.12.2018
Students of Russian schools and gymnasiums presented their special projects at the Landtag (parliament) of Saxony at the end of Days of Young Historians which were held in the region for the 14th time. Participants had been working on the chosen topic from local history for six months. 
A group of gymnasium students and students from Raduga Saturday school worked in the Russian center of the German-Russian Institute of Culture in Dresden. The group developed a project called  "Rainer Maria Rilke: poetic consonance with the history of Dresden". The idea of the project evolved at Marina Tsvetaeva's memorial day in October, 2017 when a memorial plate was placed on a house where the poetess and her sister lived in the summer of 1910.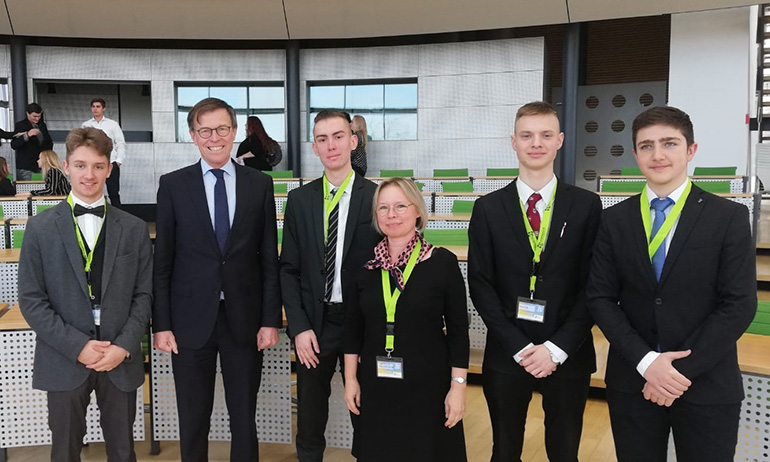 Rainer Maria Rilke used to visit a next door house five years before Tsvetaeva's arrival. It is hard to imagine that this invisible thread from a small street in the ​​Weisser Hirsch area invisibly connects two poetical persons who discovered each other's creativity and maintained a unique correspondence interrupted by Rilke' premature death. 
The students read letters, memoirs and Rilke's verses and studied the history of the districts where Rilke spent time from 1901 to 1913 in the Russian Centre of Dresden. Certain stages of Rilke's life have such a deep connection with Russia that one can rightly call him "the first enthusiastic expert of Russia." Rilke had such a good command of Russian that he could hold correspondence with Russian friends and translated Tale of Igor's Campaign into German. Rilke called the Russian language "beautiful and unforgettable."
Few know that Rilke was considering moving to Russia with his family and that Russian was the first foreign language his poems were translated into by Boris Pasternak
The students presented the results of their research on the 14th Day of the Young Historians to the commission headed by the President of the Landtag of Saxony Matthias Rossler. 
Natalia Zagorskaya
News by subject