Russia's Days in Alicante
/ Главная / Russkiy Mir Foundation / News /

Russia's Days in Alicante
Russia's Days in Alicante

08.06.2018
Association of Immigrants from Eastern European countries AIPEA with support from the Russkiy Mir Foundation is conducting annual Russia's Days in Alicante. The main activities of the Days of Russia are the Russian-Spanish Dialogue forum and 11th International Folk Festival Russia's Days  in Alicante, Russia, Vivat!
A panel session Spain and Russia in the context of modern Russian-Spanish relations is scheduled as a part of the Russian-Spanish Dialogue forum. The key objective of the forum is setting up cooperation between Russia and Spain in the fields of culture and education.
The forum agenda contains meetings with businessmen, representatives of social organizations, cultural and educational institutions. Days of Russia are supported by the Russian Embassy and Rossotrudnichestvo in Spain with participation of the Trade Representative office of Russia, governmental officials from Moscow and the Moscow Region. Executive Director of the Russkiy Mir Foundation Vladimir Kochin is taking part in the festival as well.
On June 9, the International Festival Russia's Days, Russia, Vivat! is to continue celebrations at the embankment of Alicante. The festival has been organized by AIPEA association and Russian House in Alicante since 2007. It has turned into a milestone event in the life of the Russian-speaking community of Spain. 
"This celebration became a truly people's holiday and is always marked at one of the central squares of the city.  This year the festival program includes a concert, fair, various events for children and adults as well as prize competitions from our sponsors. We are welcoming everybody at the following address: The Esplanade at the Alicante Embankment - Auditorio Municipal de la Concha de la Explanada de Alicante, Director of the Russian House in Alicante Alexander Chepurnoi said. 
Russkiy Mir
News by subject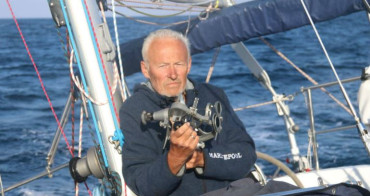 Igor Zaretsky, the legend of Russian and world yachting has celebrated birthdays and anniversaries in the open ocean time and again. The yachtsman from Yaroslavl admits that he may celebrate his 70th birthday in the Golden Globe Race, a single-handed round-the-world regatta. A year and a half ago, Zaretsky became the only Russian participant of the famous race, which was followed by the whole world. The tricolor has been flying over the yacht of the native of Yaroslavl in all oceans, except the Arctic one.