Russian universities attract foreign students in terms of prices and quality of education
/ Главная / Russkiy Mir Foundation / News /

Russian universities attract foreign students in terms of prices and quality of education
Russian universities attract foreign students in terms of prices and quality of education

18.05.2018
pixabay.com
National universities are attractive for foreign students by their quality-to-price ratio, according to the Head of the State University of Management Ivan Lobanov, who talked on this topic during his presentation at the International Conference on Development of the International Education IUNC Eurasia 2018, TASS reports.
Lobanov has noted that many foreigners getting educated in Russia make successful careers back at home, first of all, it concerns students from the developing countries.
According to him, Russian IT-specialists quickly find jobs in different countries, which proves one more time a high level of the national education in different directions. Rector reminded that 6 universities of our country entered the top-100 universities on some specializations in accordance with the three leading international ranking systems.
National higher educational institutions traditionally demonstrate confident results in natural, physical, mathematical and IT sciences.
IUNC Eurasia conference finished the day before in the State Management University. More than 250 people took part in it, including representatives of universities and recruiting agencies from different countries. Topics for discussion were peculiarities of relations between the universities and distinctive features of the Russian educational system.
Russkiy Mir 
News by subject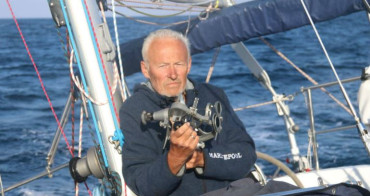 Igor Zaretsky, the legend of Russian and world yachting has celebrated birthdays and anniversaries in the open ocean time and again. The yachtsman from Yaroslavl admits that he may celebrate his 70th birthday in the Golden Globe Race, a single-handed round-the-world regatta. A year and a half ago, Zaretsky became the only Russian participant of the famous race, which was followed by the whole world. The tricolor has been flying over the yacht of the native of Yaroslavl in all oceans, except the Arctic one.