Finalists of Rainbow Literary Award announced in Verona
/ Главная / Russkiy Mir Foundation / News /

Finalists of Rainbow Literary Award announced in Verona
Finalists of Rainbow Literary Award announced in Verona

16.05.2018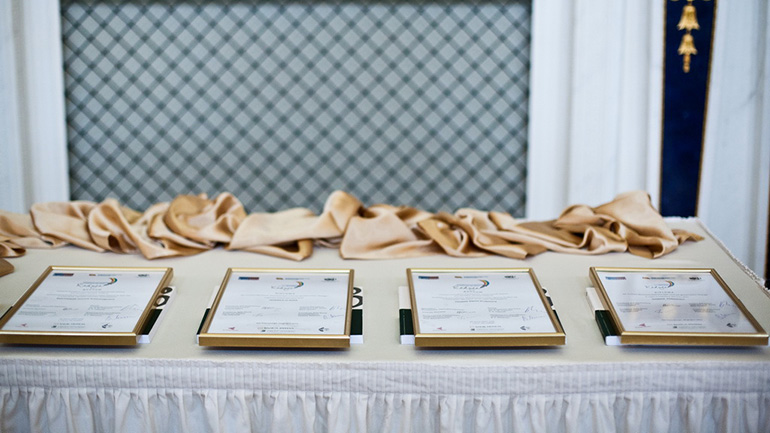 May 15, 2018, names of 20 finalists of the Rainbow Literary Award were announced in Verona. Rainbow Literary Award is a 
Russian-Italian competition for young writers and translators aged 18-35 held for the 9th time by Conoscere Eurasia Association and the Russkiy Mir Foundation.  
The winners will be announced on June 29 2018 in Irkutsk. Their works will be published in the two-language literary album by Conoscere Eurasia Association and they will also receive money prizes. The jury including prominent publishers and literary critics from the two countries reviewed the works of 705 contestants form Italy (209 writers and 74 translators) and Russia (401 writers and 21 translators). 
According to Antonio Fallico, Conoscere Eurasia Association President and the President of Inteza Bank in Russia, the works of the Rainbow competition this year demonstrated that the young generation is interested in identifying themselves with a literary word, which risks to deteriorate to advertising logos due to the spread of digital technologies and social media. Besides, they indicate the growing concern for the development of the society, which is shifting focus from people to finances, technology and competition at any price.  
The Rainbow Literary Award was initiated in 2010 to promote cultural bonds between Russia and Italy by Conoscere Eurasia Association, the Russian Center in Verona, A. M. Gorky Literary Institute of Moscow and Rospechat with the support of the General Council of the Russian Federation in Verona, Inteza Bank in Russia, Veolia company and the Russky Mir Foundation.
Polina Chunina, Verona