Holy Fire Descends in Jerusalem and arrives to Moscow
/ Главная / Russkiy Mir Foundation / News /

Holy Fire Descends in Jerusalem and arrives to Moscow
Holy Fire Descends in Jerusalem and arrives to Moscow

07.04.2018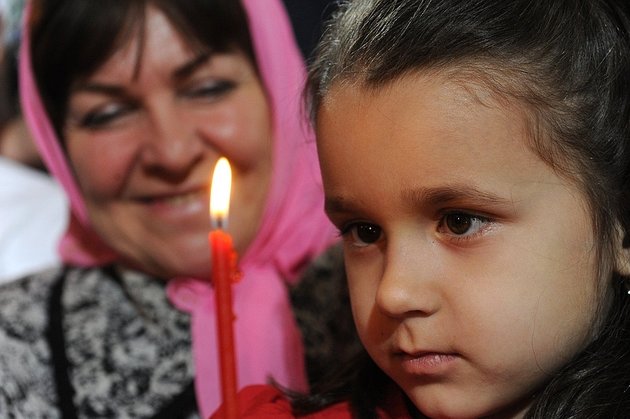 kremlin.ru
Orthodox Christian celebrated again the miracle of the Holy Fire in Jerusalem. Thousands believers have gathered this night, April 7, in the Church of the Holy Sepulchre for an ancient fire ceremony celebrating the resurrection of Jesus.
Christian pilgrims traditionally arrive to the Holy Land during these days from different countries. It is thought that the Holy Fire descends only upon the prayers of the Orthodox patriarch of Jerusalem.
According to the tradition, Orthodox Patriarch of Jerusalem Theophilos III prayed and waited, along with many believers from all over the world. Once the fire lit at the tomb of Jesus, people lighted torches and candles from a flame to bring it to other Orthodox communities across the world.
In few hours after the miracle happened Andrei Pervozvanny Foundation brought the Holy Fire to Moscow's Christ the Savior Cathedral. It was transported in special lamps used to carrying also Olympic fire. The Easter night service tol be led by Patriarch Kirill of Moscow and All Russia, the head of Russian Orthodox Church.
Russkiy Mir
News by subject