A.S. Makarenko's pedagogical heritage discussed in Russian center in Pyongyang
/ Главная / Russkiy Mir Foundation / News /

A.S. Makarenko's pedagogical heritage discussed in Russian center in Pyongyang
A.S. Makarenko's pedagogical heritage discussed in Russian center in Pyongyang

05.04.2018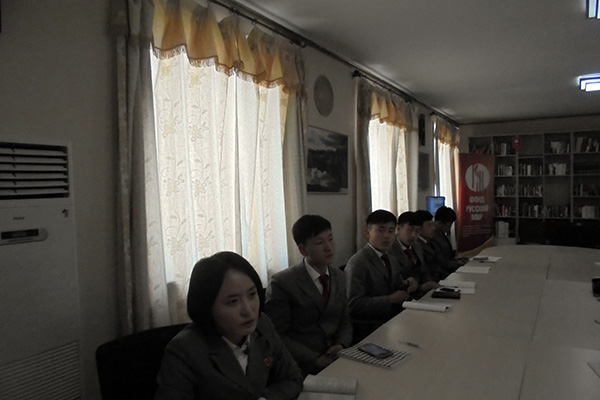 A conference dedicated to 130th birth anniversary of the Russian writer and Professor Anton Semyonovich Makarenko was held in the Russian Center at the Pyongyang University of Foreign Studies for students of the Russian language department at the end of March.
Respect to the child's personality, benevolent attitude to children's potential inclinations to absorb the good things, to become better and to take an active part in the surrounding world is invariably a basis of innovational pedagogical activity of A. S. Makarenko.
The Pedagogical poem, articles on pedagogics and correspondence with his friends reveal his pedagogical secrets. One of such secrets is true, severe, to some extent, but boundless affection to his pupils.
Anton Makarenko pondered a lot on organizing a community of his pupils. He gave a clear definition of the community: "Community is a social living organism with organs – rights, responsibilities, proportions and interdependencies. In case these organs are missing, the organism turns into nothing but a crowd or a gathering."
Students, who are future teachers and professors, were very keen on this pedagogical system and literary heritage of the writer. They got acquainted with some passages from the Pedagogical Poem, learnt parts of the articles on pedagogics and shared their relation to the job of a teacher.
The final part of the conference was dedicated to the stories about favorite teachers including many talented and decent teachers of the young generation in North Korea.
Nadezhda Belkina, Pyongyang
News by subject